It was the second time
(first time for
this event
)
in my life that I received a big white envelope inked with my blog title instead of my residential address. And yet I couldn't stop feeling all hyped.
I got invited to attend
Women

In

Business
2008
and the first thing that came into my mind when
Hadi
contacted me was,
"Eh... Did I just complain a little too much about being poor and mentioned too much about my
mission king-possible
?".
And I know it's going to be a fruitful day for me because I get to hear experiences and practices those successful businesswomen and I'm so going to be inspired by them.
You know, its not easy to be a woman.
What's more to say when we have a job and family to take care of?
How to juggle among them? Can be it a fair share?
I'd seen too many working women in my life and sometimes I really wonder how they did it?
Take one of my classmate for example.
Prepare breakfast, waking up the kids and husband, sending the kids to school, she herself has classes to attend in UBD as well. After classes finished, rushed back home to breastfeed her 3 months old baby and if possible, squeeze extra milk in case she couldn't be home on time to feed her baby. Pick up the kids from school, lunch, then send them off to ugama school again. She herself later then attend the afternoon classes.
That, is only during the day time.
And how long would this routine continue?
Enough side talk.
Here's the revised copy of the flyer again.
There's a minor change in the speaker line up.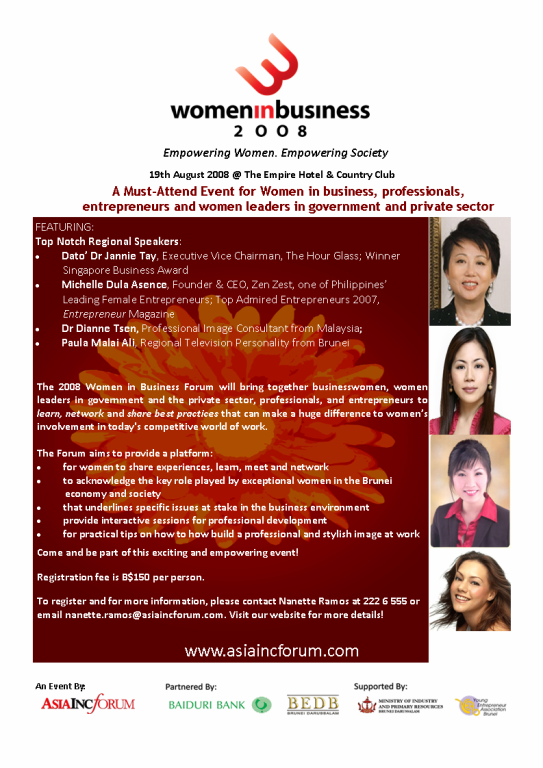 Click
here to register online
and
here to view the programme
.

For further information or assistance prior to the conference, please call Nanette Ramos or Hadi Mohd Shafie at 2226555 or email
nanette.ramos@asiaincforum.com

Attire - The dress code for the forum is

business suit

.
Crap... All I have now is baju kurung!
Well.. at least I get to wear my skirt and white shirt that I had not worn for.... almost 2 years.