Never in my life I had received an invitation that is not address to the location of my house, or my working place but
the name of BLOG!

Thank you DST Simpur.
Sigh, I'm easily impressed if you have not noticed.
It was held in Jerudong Park Amphitheatre and the dress code was.... Smart Casual. Took me quite some time to figure what to wear actually, my
baju
are either too casual or prom-ish wedding dinner cocktail dresses.
In the end I settle it with a sleeveless shirt and jeans, since its going to be hot and humid.
Of course Bobby tagged along since most of my friends work on Friday and my colleagues couldn't be bother to come over to support me. SMSes kept flooding in asking me for the results and demanded that I should informed them right after the announcement.
Maciam
(fussy or demanding)
lah my kawans...
(Don't pay for my Easi credits pun dare to ask so much...)



Lucky I still have my boyfriend to keep me company through out the whole day, WITHOUT COMPLAINING! Definitely a keeper. Tell me how many guys can tahan their mothers, girlfriends, wives or daughters shopping for hours and carry their shopping bags without muttering?
I have to thank Mama Lim and Cheh-Cheh Lim for the training.


The top 6 finalists were asked to go on stage and were interviewed by Jenny live on air in Kristal. I was asked for my predictions of the Top 2 and I said
"Rano and Kurapak"
, because they campaigned really hard, spent money in printing flyers and banners and when I was asked what did I do for my very own campaign... I just answered in a low tone...
"Er.... I blogged more?"
A lot of my friends asked me if I felt nervous but honestly, I don't. There's basically nothing we can do once the poll is closed but wait for the day. Furthermore,
"No Expectation, No Disappointment."
, and I got bombed by a lot of people answering them that.
They all asked me to have some confidence but, hello... look at my competitors! They're famous bloggers who had started blogging since I was still in my diapers.
Okay, I exaggerated.
Still, conclusion was... No way I'm going to win this. I'll consider myself as super lucky and blessed if I can get in to the top 3, meaning I'm satisfied with the 2nd runner up place already.
I told kor-kor Reeds that I was there for fill in the "quota" and he said he's there to take his
"Best Photo Blog"
trophy and will leave immediately it since he has no business after that. And we'll sit together to watch others going up stage.
Hey, we're being humble, not lack of confidence okay.
Hahhahahhahaaa.
Miss
Maurina
, so fair and glam. She never failed to surprise me with the colours of her eye shadows. Mau, give me make-up tuition can?
Finally, the prize presentation begun!
I was the first to be called on stage because "Personal Blog" was the first category for public voting.
Big mistake.
Couldn't stop laughing..
Image source
:
RJ63
I was so blur that I didn't know which stairs to walk up, where to go and what to do! Damn embarrassing okay.
You know what I did? I walked up to Jenny, the host for the event and she showed me that I was supposed to get my trophy from the Simpur manager. I didn't even paused and let the shutterbugs took photo of me receiving the trophy!
No, it wasn't stage fright. It was me being blur and clueless as always. I was laughing at my own stupidity and I bet I scared him
(the trophy presenter)
off too. He must had thought how come
siao-chabor
(crazy woman)
also can win one...
ARGHHHHHHHHHH...
Only when Jenny called for
BruneiFishing
to come on stage to collect his trophy baru I know how the person behind the blog looks like. Honestly, I was expecting someone very dark
(too much of sun exposure)
and very big in size
(sit too long hence the bulging tummy)
but he was nothing like that.
Must be Angel's sun screen protection doing the job.
SPF50+++
Crap! I forgot to ask for his name!
Aiyaaaaaaaaaaaaaa....
Far Far Far Away shots by Bobby again..

You want closer shot? Bah, wish granted

Lucky there's quite a number of shutterbugs taking photos that time so I can just curi from their blogs. If not I'm going to bite off Bobby's hand! Just kidding lah.
And the excuse Bobby gave was,
"Very far bah bi... And when I walked near to the stage so many people blocking..."
Duh... Push them away lah, they're using tokong
(ganas)
cameras
(with kiasu lens)
that I'm pretty sure even if their hand jerks still the pictures will turn out great one. LOL!
Eh, you noticed something?
All those guys who were blocking were either from
BruneiForever
or Kurapak's crew.
New MIB, Men-In-Black.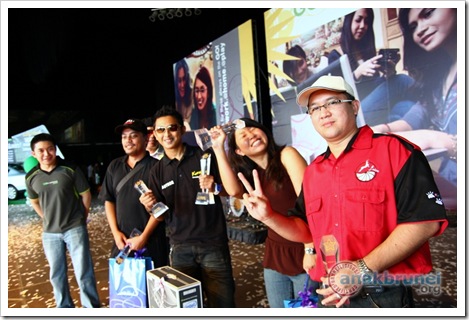 Finally,
BLOG OF THE YEAR ANNOUNCEMENT TIME!!!
I was still relaxing and keeping an eye on Bobby asking him to take photos
(of me on stage, which you can see.. turn out really sucky)
when Jenny mentioned that I was the 2nd runner up for Blog of The Year having 9% of the total votes.
I thought I was just going to be part of the wallpaper, I frowned and gave an awkward smile because I wasn't prepared for it. Until I noticed that everyone was looking at me, then I started laughing like orang gila again...
The stupid thing was, it was already my second time getting my prize and yet I walked up to Jenny instead of getting my goodies bag from the manager!
Haiyoo!!
Dear Simpur,
Is it possible to give me some rehearsals or instructions first so that I won't make a fool out of myself again?
Regards,
The clueless blogger who doesn't have any idea what's going on most of the time.
Anyway, I was quite overwhelmed by the result.
1) Kurapak 46%
2) Ranoadidas 30%
3) Spiritual Garden 9%
4) Arab-families 5%
5) Brunei Fishing 4%, Anak Brunei 4%
.. even though none of my predictions for the top 3 came true.
You know there were times that kids mutter numbers and the parents quickly go buy 4D and then kana first prize that kind of thing.... It had never happened to me.
Even the fortune teller told me that I shall not gamble because I have no side luck. The only way for me to get wealthy is by my own hard work, sweat and blood. Never 4D, Toto, Big 2 and even lucky draw!
(Uncle
Jan
always said that I was so tough that I tend to push my luck away..... Apalah...)
What made my day
(other than winning 2nd runner up for BOTY)
was getting to meet my readers! I know I whined a lot about not getting recognized by people but finally! Yesterday I had a couple of readers coming up to me telling me that they read and love my blog!
And what Angel whispered to me really got me floating on cloud 9. Hhahahaa!
Mr. BF
(Brunei Fishing)
, sorry ah.. it's going to be a secret among your wife and I.
*floating on Atul's white fluffy mamatus cloud after kicking her away*
Oh oh!
Do you still remember the promise
Alin
made to me if he won
BOTY
?
(BOTY

-
B
log
O
f
T
he
Y
ear
)
Hehhhehhheee. He's going to let me pluck his dan!!! Muahahahhahahaaa!!!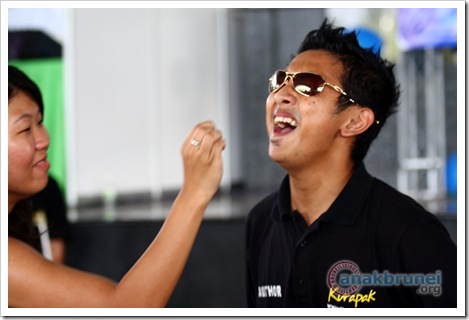 Good that the moment was captured by kor-kor Reeda.

I have a confession.
I have a fetish for facial hair. Hahhahahaa.
Sorry
Qilah
. I hurt your hubby.
L-R:

AnakBrunei, Alin, Qilah, Nonnie, Maurina and the owner of nadabaju.
Err... yeah, you guess right. The lousy photo above was taken by none other than Bobby.
Sigh.
Any secondhand
"The Complete Idiot's Guide to Digital Photography"
for sale?
Belum lah.
That's not the end of this post yet.
After the roadshow, we went to ICC to check out the Consumer Fair and Rano was there too.
If there's an award for
"Most Hardworking Blogger"
, he's definitely going to get it!
I have no idea from where he get all the time and energy to cover so many events and weddings, and also organizing this BCG!
Red Bull
overdose
kali?
On side note:
Bobby was so captivated by this booth..
HD Plasma TV with his favorite game console
Me:

You know what, I will not let you have this in our house next time because you won't be paying attention to me.



Bobby:

....



Me:

Oi!!!



Bobby:

Huh? What?



Me:

See! This is what I am talking about!