As per requested by a silent reader.. who left a message in my tagboard saying,
chicwing blogger's reader
:
i'd like to know more abt ur whitie and details of ur mission king possible.
Wish granted my dear.
I'm going to talk about my Whitie in this post, with very limited knowledge about gaming. For those hardcore gamers out there, forgive me if I make mistakes because... this is coming from a lady who doesn't even own even game console, no PS1, 2 or 3, no X-box, and not even those 80s Nintendo or Sega!!!
I had my first handheld game console when I was in Secondary 1. It was no impulse buying. I had long planned for it and kept urging my mum to get it for me. Of course, the answers were always NO! Bu-ke-yi. Tidak Boleh. Meh-Lei!
So.... I had to use my own angpao money.
Crap. I couldn't believe I was that crazy over that Gameboy. I walked all the way to Seria Plaza just to buy it okay! It was black in colour, so handsome... but freaking bulky! Used to those AA batteries like minum air like that. Crayon Shinchan was my best game, I could complete the whole thing without losing any life. Then it was Super Mario, cleared all stages too. Oh, such nostalgia.
There, that's my first and ONLY game console I bought.
How about my Whitie?
Hehehhee. It's my birthday gift actually. I was too shy to say it in my blog because, it was from a nice guy whom I have never meet in my life. He's my blog-reader turn blogmate then good friend. I know it sounds really corny, I mean.. who would have expected a few hundred dollars gift from someone who lives in another country and only know you through your blog!
Thank you
Iwan.
(For those who has follow this blog long enough, you should know who he is. And oi, you said months ago that you'll reopen your blog one leh. Tipu one ah you?)
Enough of irrelevancy.
(Actually I'm waiting for the pictures to get upload in my photobucket now.. Thus this much of crap)
Introduce you to...
Hey, I drew eyelashes for it so you should by now know that she's a girl. I have this bad habit of giving genders to my stuffs. I think my Lumix FX8 is a hunkie boy, my car is girl by day and a brave young warrior by night. Crap. I'm sick.
And my card reader is a transgender.
I bought this sticker thingie to cover up my Whitie so that it won't get scratched but my stupid friends claimed that its very ugly. And said that I have this
"Super Power"
to make things uglier and buruk.
What ugly? I saw cute rabbits and teddy bears on it. It's suppose to be
KAWAII
okay!
It is agak-agak 13cm wide.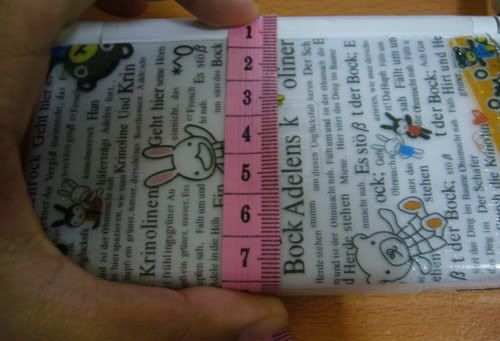 Agak-agak 7cm long.
And agak-agak 2cm thick.
There's two screens on it, the lower one is the touch screen and the upper one is just a normal LCD screen. It has this very nice backward compabality that allows you to play your old games from Gameboy Advance, just that only one screen will be used.
Then you have microphone in the middle, which always make me looks like a total moron blowing air to my DS while playing
Cooking Mama
, or calling out
"Koopi - Koopi"
when checking my pet dog in
Nintendogs
.
Don't ask me why all Chinese likes to call dogs
"Koh-pi"
.
Its just.... an old habit hard to be shaken off started from our ancestors I guess?
Erm.. this is a bit embarrassing to say but.... I don't buy original game.
(Who does anyway? We're living in a country where pirated stuffs are all so accessible!)
I got myself a
R4 flash cart
, and another 1GB Micro SD card to download games into it.
The R4 cart costs about B$70+ and the microSD... I have no idea how much is it nowadays. Meaning, if you want a complete functional DS-Lite that can brings you entertainment, you have to prepare at least
B$400
for everything.
B$278.00 for the game console.
The rest is for the game carts and accessories.
Note

:

Other than R4 cart, there's also tons of different sort of cartridges such as Linker and so on. You just got to do all this research yourself.
But, if you don't have any of those game carts, you can still chat with people using the
PictoChat
via wireless connection.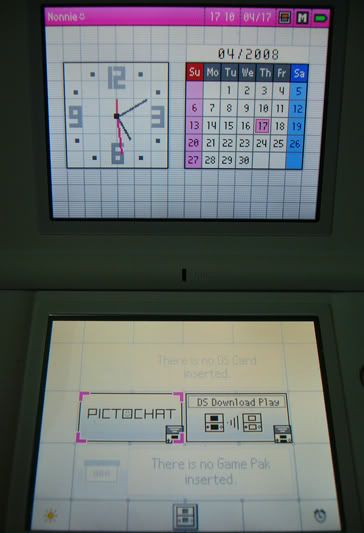 I have never try it out before. So I can't tell you if its fun or not drawing in the DS-Lite and send it to friends and/or strangers.
(The above screen only shows when you have no game Pak or Cart inserted into your Ds-Lite)
A huge thanks for my dear friend
Sing Yin
who taught me all this.
You can download games over at this
website
. And before that, if you have no idea what games to download, just check out this
website
and check out their reviews.
Oh oh! The original skins you get from the
Moonshell
is pretty ugly. But fear no more, you can make your own skins! Or, just download
here
or
here
if you're too lazy. Find out yourself how to do it. I'm not going to spoon feed you.


My Skin!

Yeah... It was a pretty old photo PS by yours truly but I still can't get over it. It's too chio to be forgotten. I mean, we're so model-ish and cool.

The warning is for my stupid friends,
in case they got over excited and poke

pecah

my touch screen.
Then you can tab on either one of these buttons
(as above)
to play game, listen to MP3 or read your ebook.
The first button is for
"Games"
, second is for
"Multimedia"
and the third one..is Boot Slot.
Upon clicking "Games", this is what you get.

Games I play currently
Fifa08
was specially downloaded for the boyfriend. I know nothing about football. Who doesn't like Cooking Mama? Super Mario is everyone's favorite. Sort of finished "Pokemon Diamond" already and recently I'm crazy over
"Professor Layton and the Curious Village"
.
I like boring games like Mahjong. It just keeps me occupied all the time. I gave up on "Harvest Moon" because its just too repetitive.
Moving on to the

"Multimedia"

tab
This is where you play your mp3(s), see your photos and read your ebooks... which I seldom touch.

Okay, I guess that's about it. If you need to know more about Nintendo DS-Lite, go google or
wiki
yourself!
I don't know if I'd left anything out, but if you have some other games to recommend or tips, just drop me a comment or message.
Adios!