Yeah yeah. I know I know. I haven't blog mah. I know.
I woke up, rubbed my eyes and turned on my monitor and saw blinking orange msn alert from couple of kasian friends

(I'm still on holiday and they're working...)

demanding me to

BLOG

! I haven't even brush my teeth nor wash my face but I'm now blogging for you all.

Happy now?
......................................................................................................................................................................
(Since most of the answers I got from the previous poll say that you all prefer to see lots and lots of photos and are too lazy to read, so I guess I won't be writing much. Even Chin Kang told me that my entries are like toilet-paper long and all he did was look at the photos... Blurghhhh!
I know I'll end up writing a lot of ojipalas anyway, even if I said I will write less)
Rewind.
On last last Saturday, 14th June 2008, our school was visited by Jollibee and I was given a really cool and cute Jollibee bag! Hehehheee. Eh wait, I was suppose to blog about the wedding. Bah, start again.
On last last Saturday, 14th June 2008, I rushed back from school and meet up SL and Mr & Mrs Chea in Soi Heng to have lunch and Kelly and 48 text me better go to the saloon to have my hair done already because sibeh many people there.
I thought I played a bad host because I had to ask SL dropped Mr & Mrs Chea in OGDC while I went to the saloon and fix my stupid hair, went home and packed and waited for his Fattyness, Bobby to arrive Seria, then picked them up again and off to Miri we went together.
Why so mafan you ask?
Because I can only step out of Brunei after 4.30pm lor. Else I early early 7-morning-8-morning will get ready and zoom down liao.
So yeah, when I pushed open the saloon door, really saw a lot of aunties waiting for their turns. And some even just left the place. FussyKelly was busying doing her nails and toes... which I don't get it because who the hell will look at people's toes unless told to do so? I removed all the "paints" on my finger nails and toes because I didn't like it.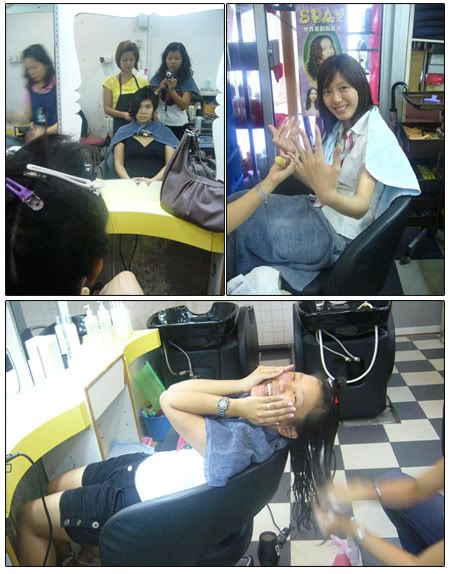 I needed a hair wash and just a simple hair, and because I'd previously permed my hair so they just need to blow dry. Where as 48 had to wait another 30 minutes to get her hair curled.. So end up I was the first to leave the saloon where as that two ladies waited for another hour.

And so we quick quick rushed to Miri and sekali there was a long queue at the borders. Holiday eve kua? Rushed to our apartment, did a 10minute make up and rushed down to the ballroom because we're assigned the job of registering.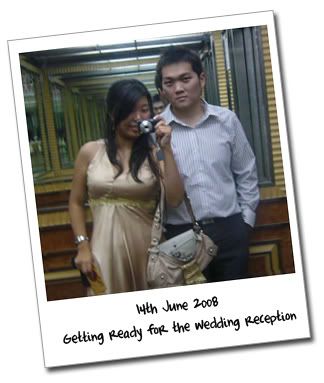 Why is it so easy for men ah? I mean, look again on the above photo. Can you tell if Bobby was wearing his working shirt or its a "go-wedding-dinner" shirt? Same same right? Whereas us girls had to tailor-made the dress and burned a small hole in our pocket.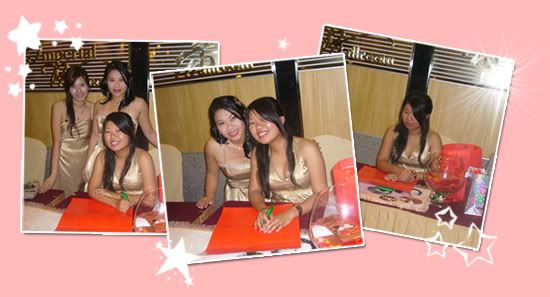 Our job was easy, but tedious.
There were 3 counters at the reception, one is for the "Groom's Church friends", one is for "The Bride's Relatives" and the one we're in charged of was the "Newly Wed's friends". All we need to do is to get their names, ticked at the box, wrote a number at their red packets, asked them to leave some greetings or signatures at the guest book, or I should said, guest PAPER.
Easy right?
NO!
The list was written in alphabetical order and so we thought it would be easy. But the thing was, the names on the list weren't standardized. Let me give you examples.
Let's say Bobby walked in.
Us: Hi, can I have your name?
Bobby: Err... Bobby...
Us:

(Check check check, look look look, no Bobby....)

What's your surname sir?
Bobby: Err... Lim?
Us:

(Look at the string of LIMs on the list)

Lim what what sir?
Bobby: Lim xxx xxx.
Us: Okie. Found! Please sign here.
Another scenario will be...
Us: Hi Miss, can I have your name?
Kelly: Lim.
Us: Lim what miss?
Kelly: Lim xxx xxxx.
Us: Don't have wor Miss. Do you have another name?
Kelly: Try look for Kelly.
Us: Kelly Lim?
Kelly: Ya.
Or, it could be.....
Us: Still don't have wor.
Kelly:

(Turned that piece of guest list and look for herself)


Kelly: Nah, here.
Us: (Look at the piece of paper.... it was written

"Jong and Kelly Lim"

)
And some cases might be...
Us: Can I have your name sir?
Him: Muthu...
Us:

(Learned from experience, must get full name one!)

And your surname is?
Him: Muthu Samibeluwakam.

(Name ching-chai think of one ah...)


Us: Sorry sir, we can't find your name. But we can just write it down here, can you spell it?
Him: Ya, my name won't be on the list because they just asked me to come 2 days ago.
Ladies and Gentlemen... next time remember to standardized your guest list ya. Be it the first name, or surname... at least the time for the searching process will be shorten. Or maybe next time just prepare an Excel spreadsheet, so that the receptionist can just Ctrl F. And you can even hide a column with the header "Angpow" somemore. Easier to total up what.
The dinner started at 6.30pm
(By far the earliest I ever encountered.. but its common in Miri)
and as usual, Brunei times andang late by 15 to 30minutes so yeah, we missed their grand entrance.
(This photo was taken by SL)
It had to be that early because some of the guest who wished to go back to Brunei on the same day had to rushed for the borders before 10pm.

And by the time we could finally closed our "counter", they're already cutting cake on the stage...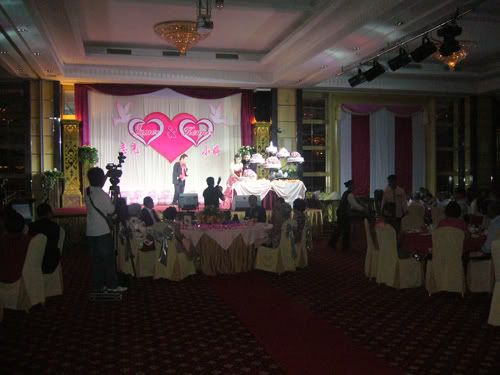 And the more "pek cek" thing was that our
"red table"
was taken by some other folks... It was supposed to be reserved but yeah.. in the end we sat at those normal "white table", which wasn't that bad because our table was just right beside the red carpet and the view wasn't so bad.
(Red Table - Table specially for close relatives or bridesmaid/ groomsmen, I think? As per Kelly's mum.. Red Table served bigger portion of food)
And for the whole night, we had to take care of those angpows...
Scary you know. I'm sure some of you had heard of those robbery cases that happened on wedding nights right?
The food was considered quite okay, erm..... way better if compare to Emperor's Court at Hua Ho Manggis Mall actually. And WAY WAY WAAAAAYYYYYYY CHEAPER!!!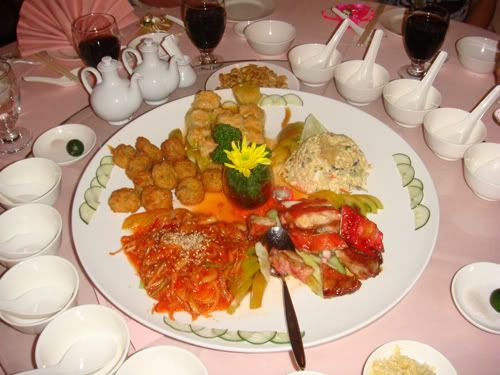 We had really nice table mates that night because they all waited for us to be seated then baru eat....
*Melts*
And the good thing was, we didn't sat with strangers... On our table we had, Bobby and I, Kelly and KL, SL and 48, Mr & Mrs Chea
(our high school mate)
and Carrie from HK.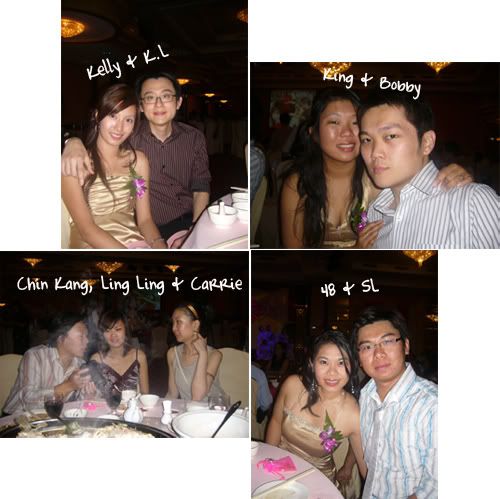 We're told by Carrie that in Hong Kong, the wedding doesn't start until 9pm and there's 12 courses to complete! Shark Fin soup will be placed somewhere in the middle unlike in Brunei, Shark Fin soup is always the second dish to serve.
Their first dish in HK will be Roast Oink Platter.
Us at the lobby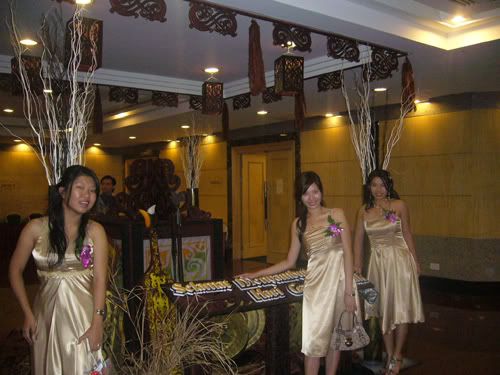 Er.... the emcee for the night happened to be the famous uncle who was one of the top 10 finalist in the Astro CGM 06 or 07 I can't remember and the entertainment show for the whole night was one whole package.

It did felt a little CNY-ish though at first, with him and a young boy singing oldies and young little girls performing traditional Chinese dance.

I don't know lar... It's suppose to be a wedding dinner mah, how come got people singing and dancing one? And also, I realized all emcees are self-high machines! They love to sing, and talk, and sing and talk...

Hello uncle? Its my wedding okay, just shaddap and let people look at me. I think I'm going to be a very fussy customer when runding with the emcee for the wedding program. Or even worst, I host it myself.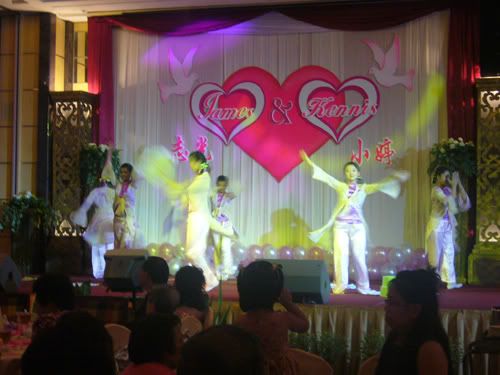 But the show got better and better when a bunch of teenage boys and girls performed hip hop/ pop dance (I can't differentiate..) on the stage followed by...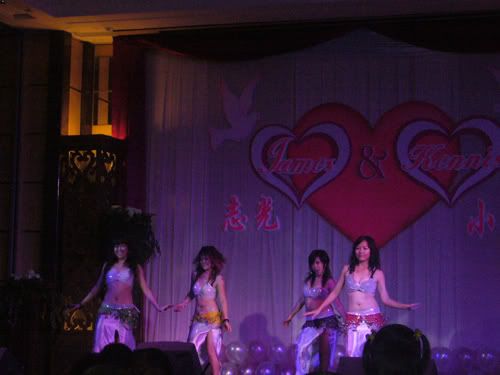 Yes! Belly Dance!
I'm pretty sure all uncle instantly woke up seeing them and aunties complaining non-stop saying
"Koi-Wui lor..."
and asking why those girls wore so little cloths. HAHHAHAHAHAHAA. Just kidding lah.
Too sexy?
I thought it was alright. Normal lah... If I can have my wedding dinner in Miri I'll surely cross the line and do something that we all can't do in Brunei. Provided there's no narrow-minded guests in my list lah.


Really 4D also not so chun!

Guess what, I was the only on who stood right in the middle on the red carpet to get closer shots and I got hit by the champagne cork...


And no, I didn't go buy Magnum 4D or what because I don't gamble.

Their wedding cake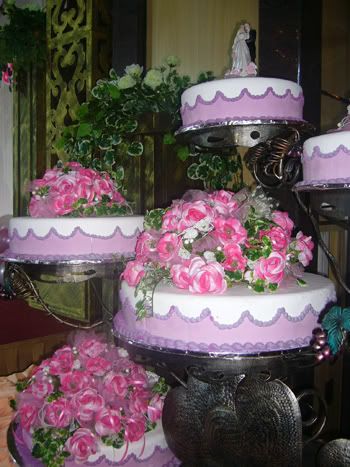 which I think is inedible... For show only.
Remember
how we fooled those men on the wedding day
? With the pampers wearing, hair waxing thingie... Yeah, the guys did revenged on the wedding reception.
We're asked to go on the stage one by one with our names announced and by that time, all I was thinking was... "Shoot! My student there leh! Cannot spoil image!".
Yeah, I saw one of my student who went to the wedding reception too and I felt a little awkward having him to see me dressing up like that. I mean, what would you think of your teacher when you're only in primary 6, seeing your teacher wearing a V-neck sleeveless dress drinking on stage?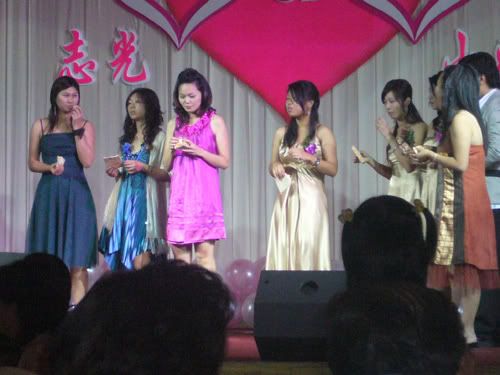 You know what those guys asked us to do? Each of us were asked to take a slice of super dry whole wheat bread and the earliest to finish them will get a red packet.

And I thought, why would I wanna eat like a glutton in front of hundreds of guest looking all silly just for an angpao? Furthermore... I don't recall if any of us girls got that anyway.

Tipu one lah...

Lucky we're smart enough to tear the bread in pieces and chucked them inapparently behind the balloons on the stage and acted like we ate it all. Only the super honest SL ate them all. Other than that, we're forced to have a sip of Martell which taste really really awful when mixing with bread.

Urghhhh!! I can just shudder and vomit just by imaging it.

48's prawn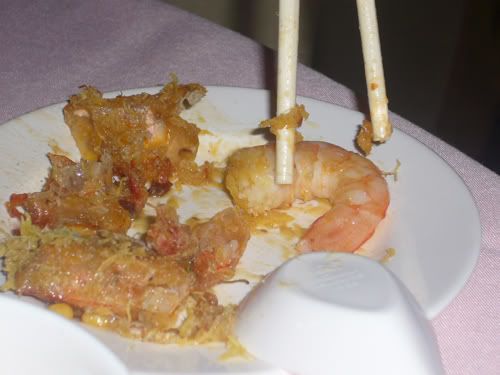 I don't know how she did it, but she managed to peel the skin off the prawn so perfectly with her chopsticks... Shane always asked you to peel for him ah wen?

This photo is damn funny!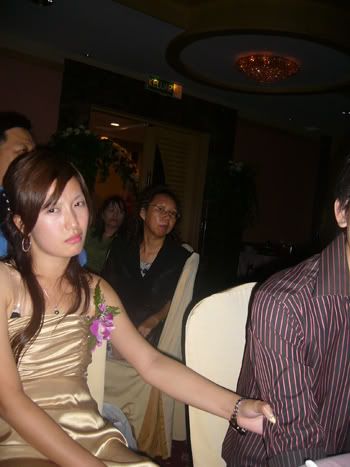 That's Kelly suffering from leg cramp out of no where, half way eating and freaked us all out when she suddenly cried and shouted
"Hern tong.. Hern tong!
"... which means "it hurts!"
And I thought the kaypo auntie behind her looking at my camera looked even funnier... Hahhahahaa
Finally by 9.00pm, the wedding dinner ended and we stayed back at the ballroom while waiting for Theen telling us what should we do with the money.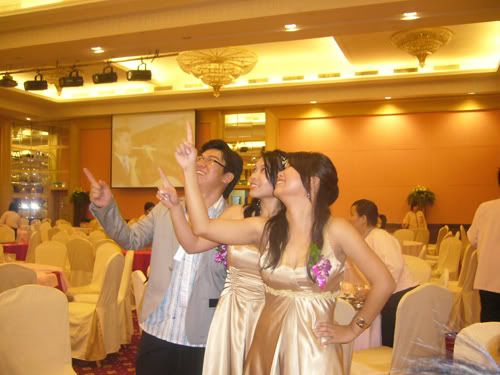 Look familiar? Yeah, I asked them to pose like that because I was thinking to ps the photo of us standing in Brunei, pointing at Singapore mah... But I was too lazy.

Wah, banyak duitnya...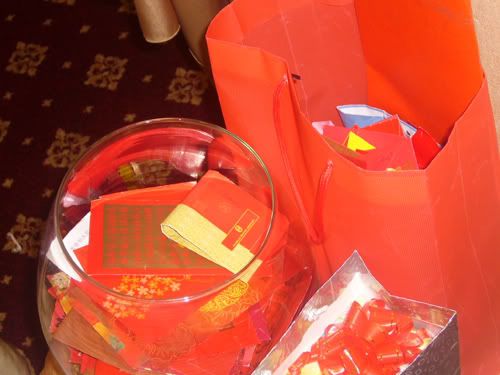 Boleh rompak liao.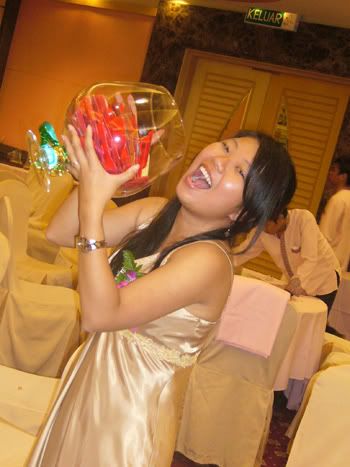 Er.. me being silly?
Aiyah.. What's new?
And this 48 wanted to pose with it too...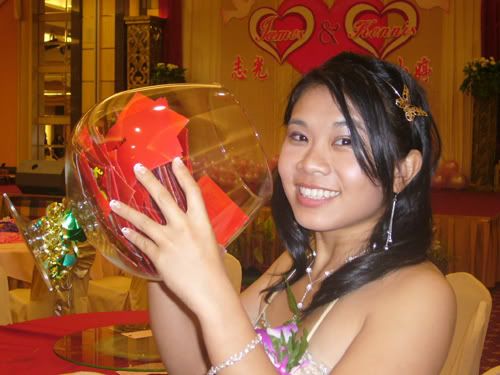 But she looked damn shi-wen
(gentle, alim)
... Chew.
By 9.30pm, the staffs already half way finish tiding up the ballroom liao whereas we still stood there like idiots not knowing what to do except for looking at how people forced James to drink.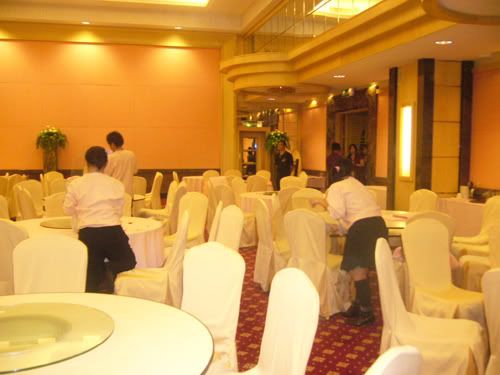 So we just took pictures...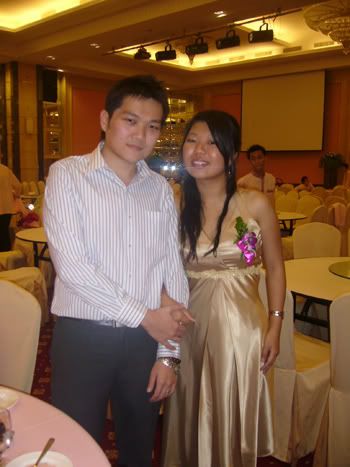 and pictures... (with Chloe)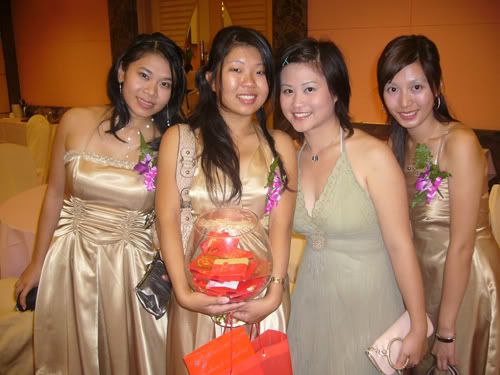 Bah! Finally...

We went in to her changing room again and started to calculate.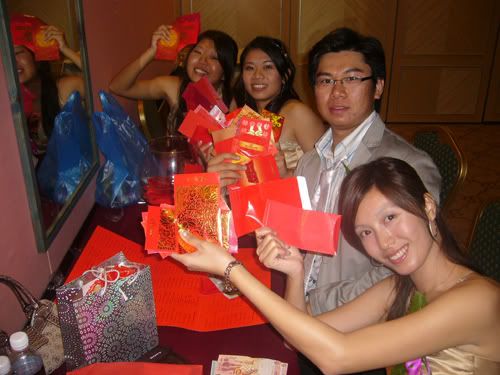 Because its not safe to bring the money out so the best solution was count it, and foot the bill straight away.

We encountered lots of funny happenings... lah.


Scanned and printed out the invitation card, stapled his name card and USD100 and put into an envelope. Sat hor?

And there's one uncle who was damn kiasu and written his name 4 times on the angpao! Scare people don't know its from him I guess.

The good thing about what we're doing was, we knew who gave how much liao.. There's really generous people who still give Brunei Dollars. Also there were people who shared a $35 angpao for 5 persons.. That's $7 per head.

Because I'm the careless one who I volunteered to be the one who count the money where as the rest of them jot down the amount to the guest list.


And good for us for having a banker among us... Using his money counting skill to the fullest and impressed all of us.


The least we could do was drag the arch out and took photos there...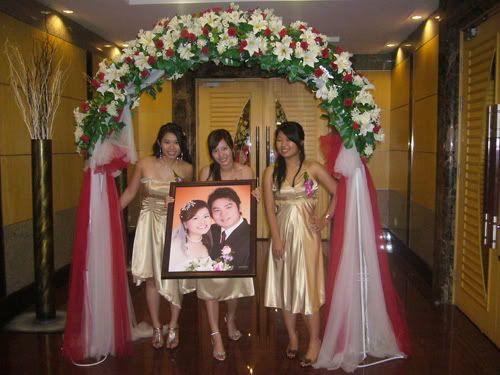 Next, crashing their executive suite!


As you can see, Bobby was already feeling sleepy
(he worked whole day and left his office at 2pm, then turtled down Seria and Miri straight away...)
and Chin Kang was busy fixing the lights. Kelly? Sitting at the lao-pan chair lor.
Don't deny Kelly Lim, Carrie was the one on the left because I remembered her wearing silver, and you're the only one wearing tube dress. Ling Ling was standing next to Chin Kang so no one else liao..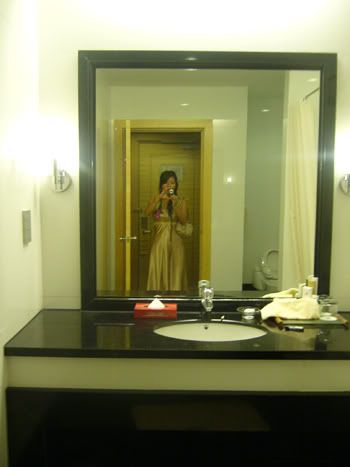 Their supper.... One whole steam fish, cold dish and shark fin soup.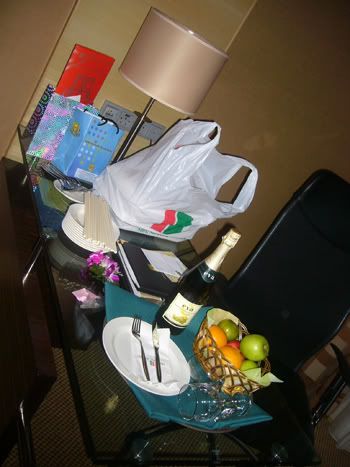 James finished the fish all by himself whereas we continued partying by going to the karaoke next... Oh well, he's suffering from hangover what.

How about his wife? LOL!

Have you seen a bride ditching her hubby on their wedding reception night and followed her friends go sing karaoke? You're about to see one...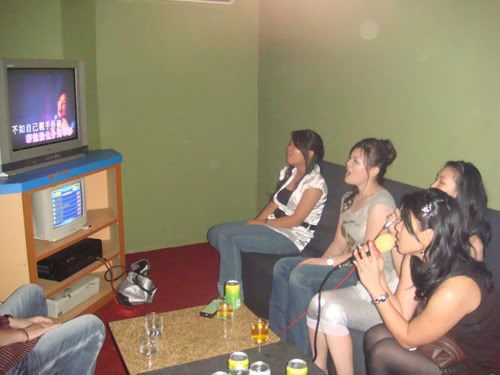 We just changed to our casual wear but her obvious bridal make up and hair was still there... And she's wearing a Mickey Mouse shirt. Hhahahahaha!!!
Another group photo with two party crasher,
Desmond and Donald.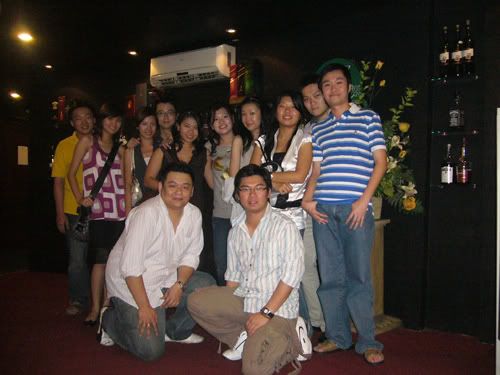 It was already 2am when we left Rexx Box and you thought we're finally going to sleep?
Tettttttt
*Buzzer sound*
The bride continued to hang out in our apartment together with Chin Kang
(his wife collapse and went to bed liao)
reminiscing the past.
Us in our sleeping cloths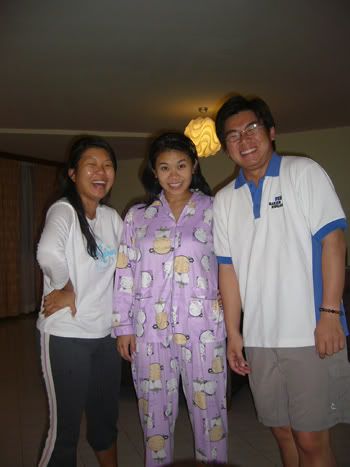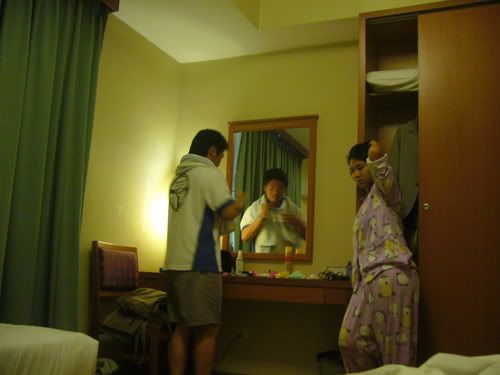 Nothing special about mine, 48's very cute and comfy and SL wearing his multi-purpose uniform. He could wear it to work, wear it to go jalan, and wear it to sleep!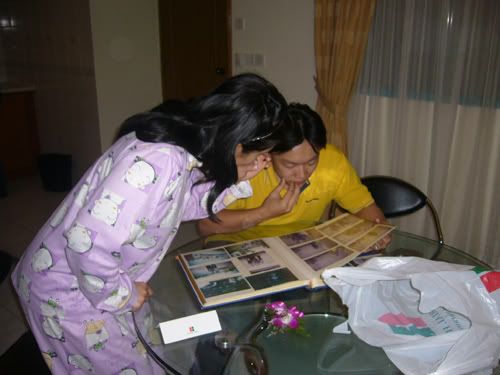 That's my photo album by the way.
I was told that I have more pictures of Chin Kang than himself... Why? Secret.


And what was the rest doing? Hahahahaa. Theen went up to her suite and took those "tapao" down and heat it up in our apartment...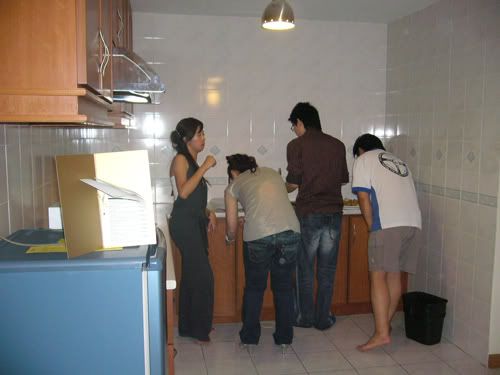 And so we had shark fin soup and cold dish for supper!!!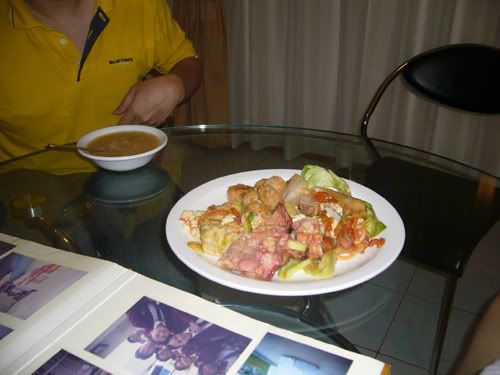 Really one of a kind experience don't you think. And Theen was saying that she wanted to sleep with us and abandoned her hubby alone up in the suite because there's more fun down here with all her friends there. She was hoping that SL would sleep on the couch in the living room I guess. Hahahhaa.
Us taking the pins off our hair...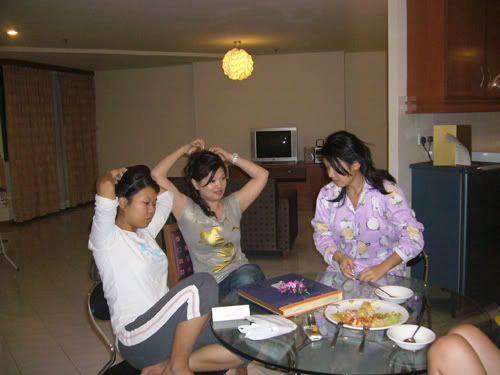 And me fooling around with Theen's faux lashes..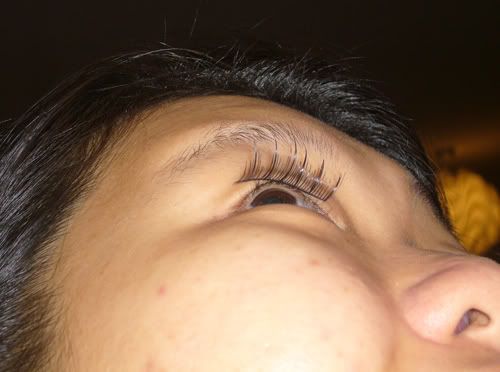 I just can't fix them properly.
So I did this instead...
I'm a hamsap businessman!
Where's Bobby you ask while I was doing all those silly things?
Busy playing with my Whitie lor.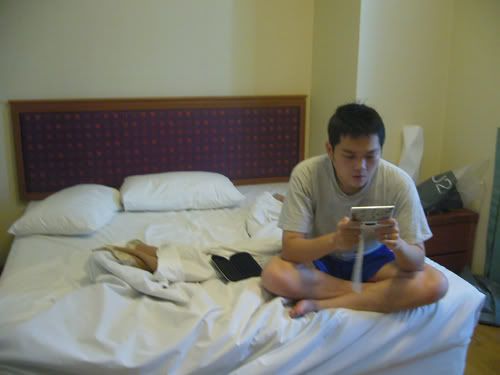 I really couldn't tahan and went to bed at 3.30am and they continued taking till almost 4am...
Gila one.

Fast forward few hours later...

Rise and Shine Land of Sea Horse!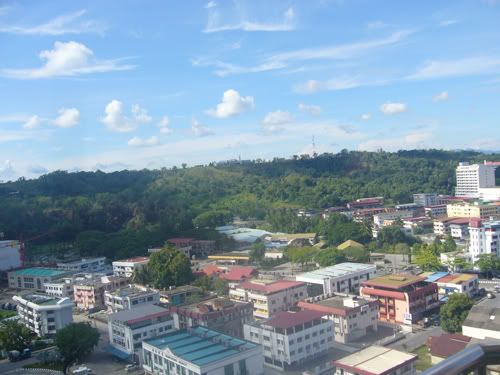 That Bobby sibeh pandai. He woke up at 8am, brushed his teeth and go back to sleep so that he only need to change to get ready.

I woke up and walked to their room and continued "lai" on 48's bed while waiting for the toilet.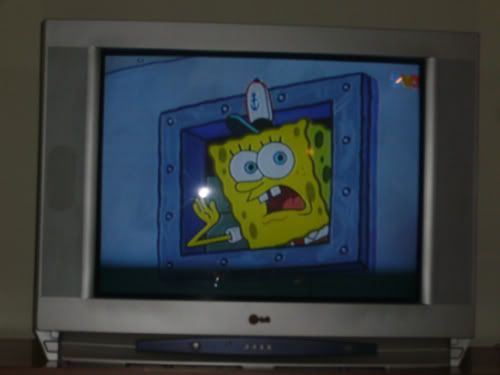 And Kelly complained the TV and my voice woke her up... Kasian Chin Kang and Ling Ling who woke up and got ready by 9.30 waiting for us to bring them go makan breakfast and sent them off.
We makan-ed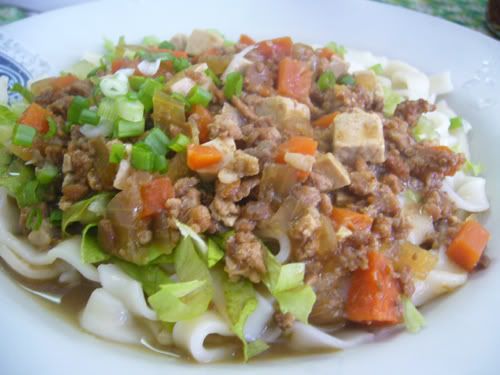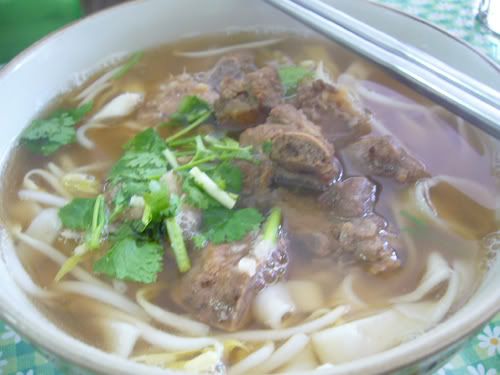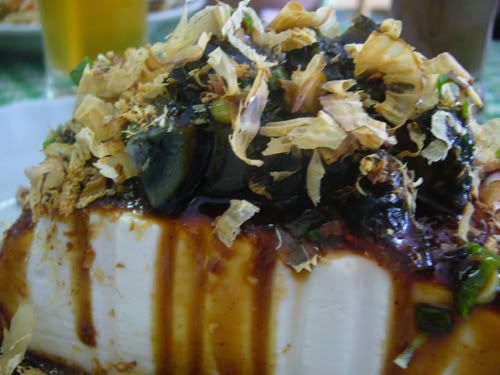 And rushed to the airport! Damn long queue man at Imperial. Nearly couldn't make it. We arrived airport on the dot, just 2minutes before the counter closed! Long time I don't see Bobby driving more than 120km/hr too...
We're saying why we always did that to Chin Kang. Back in the secondaries, we always make him late for his bus
(he lived in Labi and the last bus from Seria was 4.30pm)
and now old liao nearly make him missed his flight again.. Sigh.
Theen and Chin Kang fighting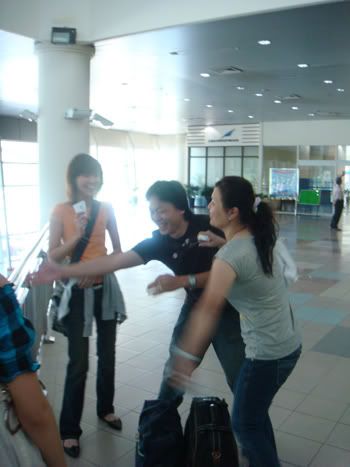 Theen wanted to pay but he rejected.
So we had fun seeing two adults playing "Tai Chi" there lor.

One last group photo before they boarded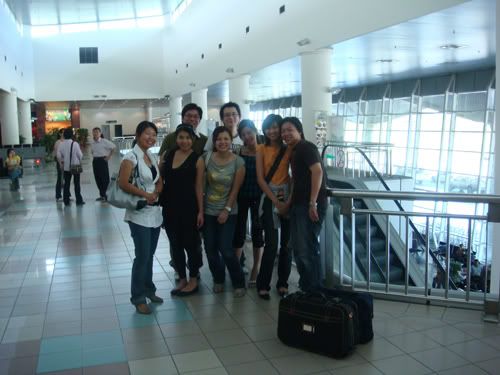 It will be us flying to KL for their wedding next year!

And went back to the hotel and checked out. Guess what we had for lunch again?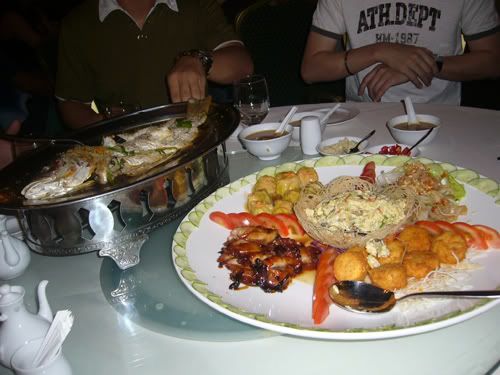 And my dinner....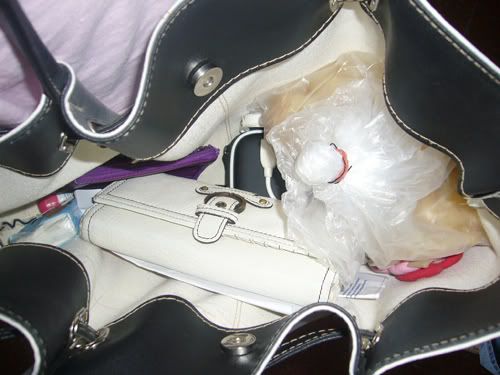 Yes! I had shark fin soup for
4 meals
!
Gila not!