Finally touched down Brunei's soil at 11pm last night and thanks to my fatty dearest for bringing me back to Seria all the way.
I have so many back-dated stuffs to blog such as the wedding reception and the cute erasers 48 bought for me from kangarooland. And I'm feeling hungry now. I'm missing Singapore's super convenient stalls along the roadside that 48 said,
"You close your eyes simply point also got place to eat and sure delicious one..."
To sum up my trip, I would say the beginning and end
(encounters in the airports)
was disastrous and we had too little time to shop, not enough money to buy and need to drink more peanut-chicken-feet soup to have powerful ostrich legs to shop from one end to the other.
Now I know why all girls in Singapore have such thin legs... My walking pace is too slow for the roads and escalators of the Lion-land. And seriously, I think the M.O.F has to educate their people well when it comes to Brunei Dollars!
Most of my BND got rejected and there's no point of telling them that the value of SGD and BND is the same. Like hello, we can even use SG coins here in Brunei leh.... Sien one, we had to walk all the way to the bank to change currencies of the same value just to beli barang.
I know there's such thing call Credit Card but tak kan I swipe card for buying a $2 mineral water kua?
Bah, enough ranting.
I need to take a quick nap then continue unpack my stuffs.
You want pictures?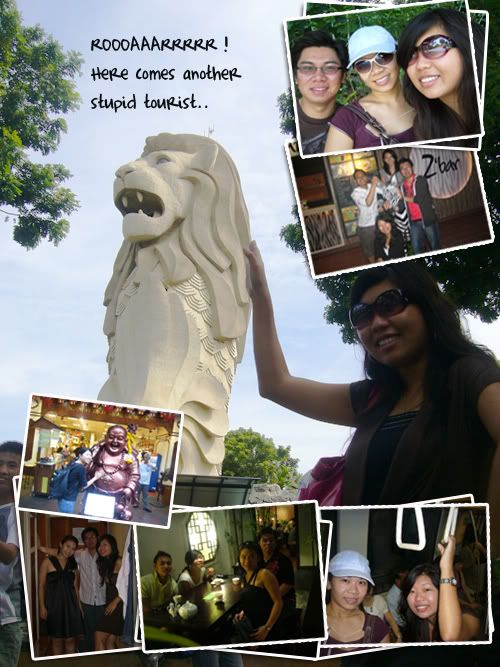 And you'll have it. Just a sneak peek lah.
There're more in SL's camera and I just need to feel semangat driving all the way to his house and get those pics.
Anyway, I guess I'll blog the wedding dinner first lah.
... And I pray for my cousin.
I really hope she'll get well soon.