As mentioned earlier, I was given a task of guiding the kids in giving
His Majesty
a warm welcome by waving flags. Of course not only our schools, all schools
(both secondary and primary)
of Kuala Belait participated in it, forming a long stretch of pupils in various colors of uniform.
Arrived school at 6.50a.m, saw a lot of students hanging around at the waiting area already having some light breakfast, orange and packet soy bean. Seriously, what a
disgusting
combination!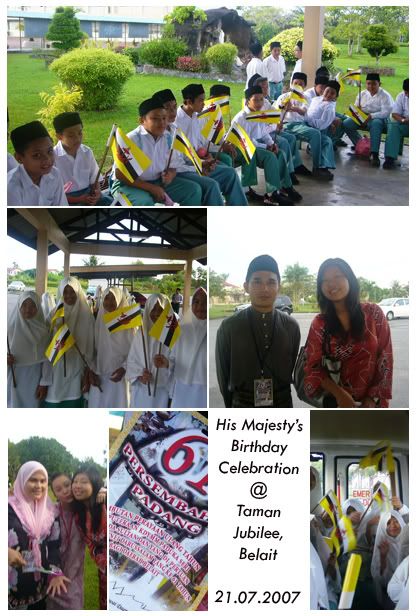 It was a beautiful morning... for most people but not for me. I was hoping for a cloudy sky, but sadly.. it was scorching hot that day!

We arrived the
padang
at around 7.30am.. waited and waited and there comes another breakfast set
(rice + sambal + a piece of meat + half an egg in a container and canned drink)
. Uhmm... we'd eaten that for the past whole week whenever there's a rehearsal actually. But still, having thousands of people performing, you can imagine how much were being spent on this event.
Had a couple of false alarm when we heard choppers flying above us and saw others flocked to the roadside and lined up properly. I felt quite lucky as I came very well-prepared, I had my 2-fold umbrella, sun block and a plastic fan
(lacy fans are no used at all! No enough "power" and very fragile. My free plastic fan from Computex comes way handy)
in my bag and ready to use anytime. Some more, I could always hide under any shelter available, and passed my umbrella to the girls and also my sun block.
The funny thing was... I only apply the sun block on my face and neglected my neck areas. When I went back home wanting to shower and saw myself naked on the mirror, I realized my upper chest was all red and sun-burned having the V-shape printed clearly.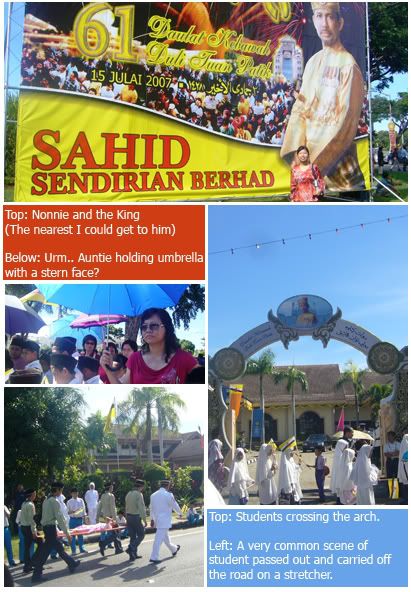 Poor kids. Stayed under the hot sun and got all dehydrated and blacked out. Hope they're fine by now.
And by around 10a.m, Sultan arrived, along with his entourages.
(I got a video of his arrival, but it's not edited yet... I, was talking quite loud

(as usual)

and I find it embarrassing to post it up. You all want to see? Or hear?)
After the national anthem, everyone walked towards the park just to have another glimpse of
His Royal Highness
. Terror, I felt like the whole population of
Kuala Belait
were there. It was so crowded and I gradually got lost and wandered off from my students.
And so, I took the opportunity walked around and took some pictures.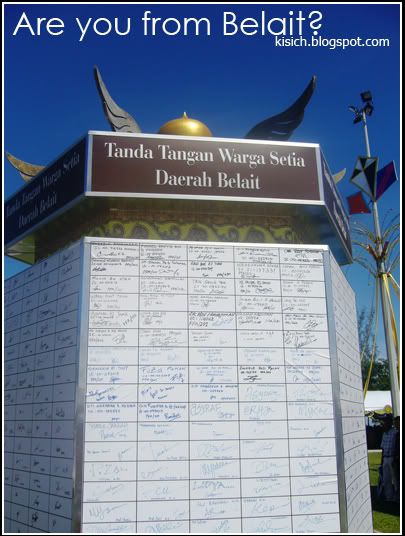 Squeezed in and hide myself in a group of media people, but it was so obvious that I'm not a reporter or any sort of those because everyone has their huge
DSLR
with really long lens that make themselves looked professional. Some even brought along their tripod.
And me, I just had my tiny-weeny
FX8
hanging around my neck.
Sigh...
Oh Oh! I forgot that I did saw
Princess Nashwa
. Recognized her immediately when she was walking towards my direction with her professional looking camera. And when she saw me, we smiled and talked a little. Very little in fact as s he was busy finding a nice spot to get some good shots. Was thinking if I could take a picture with her, but never mind la.. Maybe next time.
I gave up
(taking pictures of His Majesty and the stage)
pretty soon.
Hai-yoh
, my 5.0MP with 4x digital zoom is no fight compare to those scary one-eyed-monster.
Skills - don't have.
Good camera - don't have.
Stayed there also waste space nya. Might as well back off and let others have a better view for taking good shots
and later steal their photos from their blogs
.
And so I walked out from the media crowd and squeezed in to another one looking for my colleagues and students.
No pictures of them performing because it was too crowded. Could hardly stand properly with the people pushing behind me.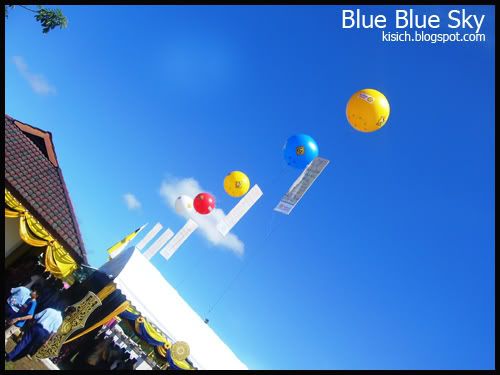 As I walked back to St's James School
(for refreshments ready at 12 and get my feet rested)
, I saw
His Majesty's
Rolls-Royce parked at the road side. Of course, the kaypo and curious me must posed with it. Not something you see everyday okay.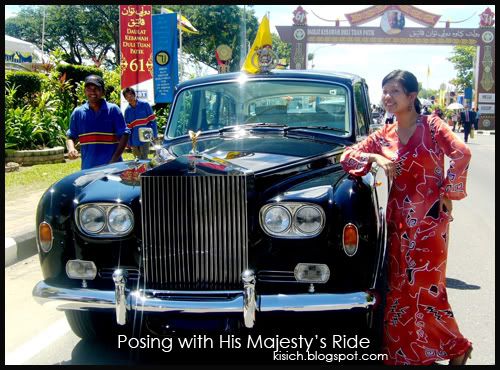 (Spoil eh that 2 men on the left)

It might look as if I was leaning against the car, but actually my hand was in the mid air. I was just pretending. The driver was standing beside looking at me and warned everyone who wanted to get near to the car that we wouldn't want to scratch or dented it.
Rolls-Royce
bor
... I guess I can only afford the bolts of the tyres.
- And I'm a pair of shoes poorer. I overworked my shiny red heels and the left one decided to OPEN it's mouth and go on strike!


* * * * * * * *
I sure hope that

Belait

is going to win, for the

EIGHTH

time!