So fast day 4 liao ah.
Okay, Day 4 has the least photos compare to all others and also, only 3 places!
Woke up at 8.30am (forced myself to sleep after waking at 7am because both 48 and Bobby were still sleeping, my mother, as usual… watching teley) and changed our plan of visiting the CKS Memorial Hall because.. it's just too hot and far away. Case malas.

Taipei Main Station from where I stayed.

Apa yang banyak di Taiwan?
Temples and tuition centers! And also plastic surgery clinics…
And the thing is.. unlike us, they don't call English 英语 (ying yu - English Language), they call it 美语 (mei yu – American Language)!! So yeah, TOEFL is way way way more popular than IELTS. And the way the people there teaches English really made me sweat..
They prefer memorizing vocabulary and pay less attention to grammar. They think the more words you can remember, the better their English are. Hence, when 48 copy and paste me her student's "essay", there's a lot of big words inside but.. it just make no sense. Something like you copy and paste from Google translate.
Once 48 and I were watching TV and it's showing a program which teaches vocabs. The word is "Sparkle".
The instructors taught audience that word by using a story. And, you need to know hokkien in order to remember this story.
"Imagine you go to this shop and see a sparkling ring. Waooooowwwwww, it's only $400, 四百块,四 (si) 百 (pa) 块 (ko). Si-pa-ko… SI-PA-KO! So you can remember, Sparkle, SI-PA-KO, sparkling ring that cost $400"
You say, sweat or not?
Just like when the nice girl was trying to be friendly and spoke English to Bobby after seeing me kept translating after her every sentence. "You go front, left.. you see a bri-jee you can see jee-an tree".
She meant, bridge (bri-jee) and giant (jee-an) tree by the way.
Just like how they say, "two sau-san dollar" (thousand) and "san-kiu" (thank you).
Anyway, back to the post.
We tried looking for a place to have breakfast but the restaurants and stalls in the Taipei Main Station only opens at 11am! So we went to the tourist information counter and asked the girl where to have breakfast. Then we arrived the back lane of the SKM mall and indeed, there's a lot of breakfast store.
Unfortunately, most of them only offers tapao only.. there's no place for you to sit in and enjoy. Only after a while, we found a place where we could sit in. They only sell egg-crepes (蛋饼)and sandwich.. no fried noodles, no porridge, no kaya toast.

48's egg crepe with corn.

My mom could only eat vegetarian sandwich. And, the coffee… is only lukewarm. They don't serve kopi panas-panas. I guess, the people there are really really busy so everything has to be "on-the-go".

My egg crepe with ham.
Next, time for some adventure!
Located in the B2 level of K-Mall across from Taipei Main Station, Taiwan Storyland is a nostalgic recreation of a yesteryear town, replete with shops, restaurants, a museum and more that take you back to the Taiwan of the 1960s.
Tel: +886-2-2388-7158

Address: B2, No.50, Sec.1, Zhongxiao W. Rd., Zhongzheng District, Taipei City

MRT: At Taipei Main Station take (Exit 6 or 8) and walk to the B2 level of K-Mall (next to the Shin Kong Tower). You can also take any city bus stopping at Taipei Main Station.
 
Just opposite the Taipei Main Station.

Hope I didn't scare you with the photo above. Just below the Taiwan Storyland, there's another ghost house featuring all Japanese ghastly ghosts and.. I don't know, rooms?
Nope, we didn't visit there because the day before we went there was already the last day. One day late. Which, is a good thing because I don't want to end up peeing in my pants (though I kept scaring 48 but.. actually, in my heart I sibeh takut also one).
I have very low level of tolerance towards these kind of things. I will never ever want to watch any horror movies in the cinema and even Resident Evil: Afterlife, I also found it scary because of all those walking corpses! If I'm Alice.. I think I'll just give up and be one of them.

At the entrance of the Taiwan Storyland.

Ticketing counter

Meet my twin.
(Oh ya, had my first round of shopping in Cosmed hence the orange shopping bag. Sibeh song to shop inside!)

Chatting with my best friend under a big fake tree.

The ticket

Nostalgia

Classroom in the 60s

My silly student

Caption this

And this! Hhahahha

Love this picture to bits! Looking so natural with that wide smiles of us.
When we saw others struggling to stand on the stilt,we thought "cheh.. got so hard or not oh…" but when we tried it ourselves.. super clumsy! I couldn't even stand on it for more than 0.0001 seconds!

Bobby did it! Only for a second. But still better than me.

Hello Darkie.

Old school shave ice machine

Vrooooooooooooooooooooooooooooooooom

Reminds me of those oil-painted canvas in Marina cinema in Seria back in the days.

Cute school kids conversing in pretty good English. I'm guessing that they're from International school.

Bar

Mini pool table with broken cue.
Something that got my mom excited.

Hahahhaa. Refreshing HEALTHFUL delicious.

Looks like Ye's Isetta.
http://kisich.blogspot.com/2006/06/joy-ride-bmw-isetta.html
Wah lao.. that post was 4 years ago liao… Well, you can still see the car, it's in Batu Bersurat Sing Hiap Hin, just next to Mr. Baker. Sure pass by can see one.

Nyaman, bagus, sedap, ho ciak!

Wanted to go inside and take photo too but.. ramai orang.

Sorry, I cannot hear you, I'm kinda busy.

Err… no buttons to dial wor… Hello operator~

48 found something interesting that relates to her job.

This one!
A scary looking dental chair that looks like some sort of torture device.
No wonder people are so afraid of dentist.

I heart this sticker booth because I can read all the instructions!



Waiting for our sticker

Hola~
After playing around in the Taiwan Storyland, we decided to go back to the breakfast lane I mentioned earlier because there's a vegetarian restaurant that looks pretty good.

My seafood noodles and Bobby's meatball noodles.

48's set lunch (more like our economy rice)

Mom ordered ala-carte dishes.
Most (Chinese) restaurant offers free flow of drinks and soup. I like! We're thinking if this system will work in Brunei but yeah… don't think so. Sure kana abuse one.

After finishing your meal, place all your plates, bowls and utensils and throw rubbish into the respective place and bins. Self-service.
Yes, GO GREEN people!
Next destination, National Palace Museum.
The National Palace Museum houses the world's largest collection of priceless Chinese art treasures, one which spans China's nearly 5,000-year history. Most of the museum's 620,000 art objects were part of the Chinese imperial collection, which began over 1,000 years ago in the early Song dynasty.
Tel: +886-2-2881-2021
Address: No.221, Sec. 2, Zhishan Rd., Shilin District, Taipei City
MRT: Take the MRT Danshui Line to the Shilin Station and take bus R30 (Red 30) to the National Palace Museum.
But…. urmmm…. 48 and I were busy talking and simply followed people got off the bus and ended up walking 30mins because we got off too soon!
Super holland.

Wanted to go take picture with the carrier but yeah.. got people behind the door cannot luan-luan-lai.

Finally reached the destination!
Actually, I wanted to go to this museum because I want to see how the real Jadeite Cabbage and Dongpo Pork looks like!
No idea what I was talking about?
This one lah.

The top collections in the museum that people raved about.
I tell you ah… before going to Taiwan I was chatting with 48 in MSN and she told me that Shane just went there for a school visit. Of course I asked what he thought about it and this is his reply,
"There's a lot of vases…… vases….. more vases…. vases …. oh ya, did I mention…. VASES?!"
I thought it's just a joke, I mean.. of course there's going to be a lot of vases, but tak kan really so many.. so kua-cheong…
When we all went in, I told them we had to split with Bobby because he's going to take a lot of time inside the halls. When we're done, we just meet him in the cafeteria. Phew, was I glad to make that decision. That fellow came out one hour later than us.
Anyways, back to the vases story.
So we went in, first.. there's a LOT of tourists and it's really annoying. With their tour guide, they would just barged their way to the front of the exhibits and conquered the whole place. A lot okay, a lot! Like.. got from China, Hongkong, Japanese, Korean… like the whole Seria town people inside crowding with you.
Okay, first we saw some bronze statues.. then calligraphy… then vases, vases, vases, vases… more vases… vases, and it's not even funny anymore!
To a point that, we took a glance from the entrance, "okay.. vases.. let's go" and cabut.
We only stopped at exhibits that are not vases. period.
There's one particular exhibit that really caught my attention though, a curio box!
Square Sandalwood Curio Box (with 30 curios inside)
Ch'ien-lung Reign (1736-1795), Ch'ing Dynasty (1644-1911)
Length: 25 cm, width: 25 cm, height: 21 cm
When closed, this curio box looks like a plain container. The advantage to this type is that it does not take up much space in storage. Although the outside appears quite simple, it is by no means monotonous. The reason lies in the decorative method of using "panels" by the artisans who made it. On the one hand, they allow the viewer to appreciate both painting and calligraphy. On the other hand, they pique one's curiosity to find out what lies inside. Not letting the viewer down, the wings of the panels can be pulled out one by one to form a fan-shaped chest. Almost instantly, the static form of the box becomes animated. Combined with the center that can be turned, it looks almost like a windmill about to spin! If you thought that the pleasure in searching for the curios inside ended here, just wait! The sumeru mount forming the pedestal of the box is also a storage area. Almost like a modern interior design, this technique of using panels to conceal objects is a perfect match! Such innovation is indeed all by unrivaled in traditional Chinese craftsmanship!
Cool or not cool or not? It has so many… 机关.. mechanism (?) in it! One small box can have so many compartments in it. I like I like I like!
Compare to the Jade cabbage and the meat stone.. this is way more interesting. I was so disappointed when I saw that two "top collections" lah. Like... "That's it?", even 48 also gave me a raised-brow because I kept telling her those two items are like the 镇店之宝, must-see items, after we happily stuck our faces to the glass pane and saw how the real thing looks like..
That's why they say… with higher expectation, comes bigger disappointment.

我 "鼎" 你的肺!Read it in Cantonese please.
Okay, sorry ah… this one I really don't know how to translate.

More buildings with different exhibits but… tak sanggup already.
Went to the Xianjufu Café to wait for Bobby with 48 and my mom.

Sigh… two coffee lovers and one lonely cold noodles eater.
Mahal the food inside! Apparently, the 3 biji of that dessert (on the table.. like cupcakes? can you see?) is way more expensive than my okay-big bowl of cold noodles.
And, I kinda miss it. I thought it's going to be bland but it's quite flavorful!
Lucky Bobby came out at about 4.30pm and we quickly hopped on a bus and got back to Taipei Main Station. Gotta love that location because… almost every bus route will stopped there.
Waved 48 goodbye (she needs to get back to Chung-Li (30mins train ride) to settle something *cough* teacher 48 *cough*) and checked online about Hebe's 签唱会。 Kinda like a meet-fans session.
Heng ah got check! Because last minute changed venue and not knowing where the place was, and.. seemed pretty far from MRT station, we hailed a cab.
The 签唱会 was timed at 7.30pm and we arrived the Breeze center at 6.15pm. Already people-mountain-people-sea liao!
See that crowd?
So… we got the entrance ticket (it's free) and our numbers are 1710, 1711, 1713!
They only allowed 2,000 fans in the concourse area and the people there really follows rules and instructions! No one will push you, or take over your place.

Super strong spotlights everywhere! Couldn't even see straight to the stage. So no camwhore photos because.. when a light shines at you like that, you're so not going to look good with that sweaty and oily pancake face.

Hebe's album. There's two cards inside.. one is "To Hebe" card, where you write down your name and message to her. And the other one is empty, which is for her to write your name and autographed on it.
The event started on time, Hebe really appeared and started singing at 7.30pm but there's just so so so so many medias and quite a lot of time was spent on their "interviews".
Well, if you have no idea who Hebe is…. Here, have a read.


Kinda like everyone's favorite song of hers.. Bobby still prefers LOVE though.
And… you guess it, Selina and Ella appeared too. Lucky us, who could have thought? Our first visit to Taiwan, we got to see S.H.E for free! Muahahaha. Okay lah, to be honest, I'm not really that excited over this… layan Bobby nia.
Actually, the day after the Hebe meet fans session, there's a concert from 星光帮,but.. I knew it too late (3 weeks after the day the tickets start selling). When I checked, only left the most expensive one… about BND150 per seat. I was quite tempted to get them because got 杨综纬,林宥嘉 all those. And when I asked my mom,
"妈,你要看杨综纬吗?"
(Ma.. you wanna see Yang Zhong-Wei?"
"要钱的啊?"
(Need to pa一?)
"呃。。。 百五一个人"
(Err… $150 per person)
"我看电视,free 的"
(I see tv, free one)
Hhahahahaa. My mom cool or not? So yeah, we didn't go to that concert lor. Well.. our schedule is kind of tight anyway. If we go there, we'll have to miss a lot of places.
I got excited when they said 王治平 and Jerry C. were on the stage playing guitars for Hebe (more than Hebe singing on stage….)
You know who is 王治平 or not? Don't know leh…. He's the father of Joanna Wang (Taiwan's very own Norah Jones they say), also one of the top producer in Taiwan's music industry.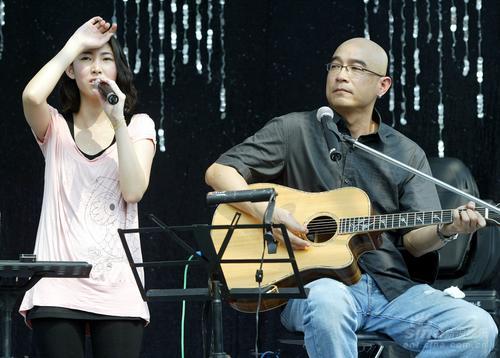 And Jerry C, you still have no idea who he is? You sure? I'm pretty sure you watched this video from youtube of a Chinese guy playing Canon In D in guitar。 Yeap, that Jerry C!
He has signed a contract with HIM, no wonder playing for Hebe lah! Same company mah.

Payah to see the stage kan?

There, Hebe singing live!
She's got really good voice and I was very much attracted to it.
A video posted by some fans. You can't expect any good quality video from me what. And yeehaaaaa, I was there!

Selina and Ella surprising Hebe with their 任小弟 and 小小弟 look.

Got this picture from Selina's sina. It's like, Chinese version of twitter but way easier to use because photos and videos can be uploaded straight away and viewed with just a click. No external links needed!

Really very funny. They basically lost control on stage. Just go watch those youtube videos, I'm sure you can see it from there.
The autograph session only starts at 9.30pm and we're all very hungry. Half-way, I went to the Breeze food court to get some drinks to tahan. My mom was there with us, squeezing among a bunch of youngsters.. I felt kind of guilty for bringing her there but, she didn't want to stay in the minsu alone.
Since our number is.. 1710, thinking that it won't be our turn that soon, we went to the basement food court for a quick bite.

Mom's fried rice.

Our wooden bucket meal! Again, drinks and soup refillable.
I love the fried prawns!
About BND10 for a set meal like that. 2 prawns, one squid, lambs and fried egg! Not bad right?
Went to the concourse area and asked the fans there what number was it already.. Guess what, the host didn't even say the number! But the front row fans were already queuing la.
So we went back into Breeze center, window shopped a while and went to their toilet. Sibeh class okay!

Got see or not got see or not?

Got sofa inside also. Nice wallpaper.

Can you see the door knob?

Pwetty!
We went back to the concourse area at about 10.30pm.. And waited .. and waited.. and waited. Till almost 11pm, I  can see my mom quite tired already. I asked if Bobby dare to take taxi and go back alone but.. his Mandarin sucks and I really don't think it's a good idea to leave him behind.
Oh ya, you know what's the number when we're leaving… 290!
And our number is 1710!
You say lah, how to wait? You know why, because she would sign whatever number of cards you hand to her. Meaning, even if you have only one ticket, you can still give her 100 cards to sign and she'll also layan. Let me repeat, our number is 1710, current number 290… I think, by the time it's our turn.. maybe it's already 3am.
Bobby remained cranky for the rest of the night because of that… sigh…
Read from a blog, Hebe signed till 5 in the morning! What the!!!! I now have a new level of respect to her liao!
Here's the blog post, complete with the entire meet-fans session if you're interested.

Hebe's nanny car.
This is like the best taxi ride we had! When I went in the taxi, I could already smell the aroma coming out from those fresh lilies. Then, there's a lcd display there streaming live broadcast showing "Rookies Diary", a series my mom was so addicted when we're in Taiwan.
And that sums up our day 4.
Related Post:
Day 3: Taipei 101, Eslite, Shihlin Night Market (part 2)
Day 3: Alishan sunrise (Part 1)
Day 2 : Up up and away to Alishan
Day 1 : Kao Hsiung
How much to travel to Taiwan?
My Taiwan Itineraries