Less photos in this post as promised. Only 107. Kekekekkeee.
Okay, back to my travelogue. You gotta give me some credits for being so hardworking in updating okay. It's really not easy to do this, but oh well, I need to do this before I forgot all the mindless details of the trip.
Woke up at 7.30am for day 2. It's really silly I know! But seems like, I will automatically wake up after a 7-hours sleep and it's annoying! So, while my mother was busy watching tv (they have like, 100 tv channels and it's frustrating to channel-surf!) and Bobby still sleeping, I woke up to read the previous guests comments in the cute little file.

This file. Cute kan?

Flipping on to the first page. Well, it really sucks if you can't read Chinese in Taiwan because everything is in CHINESE!

This particular message cracked me up! Well, it's the only message in English too in the entire booklet/file.

I like this one!
Basically sums up everything I felt for the room.

This is mine. Too malu to share what I wrote but, it's just a short introduction of Brunei. Highlighting, not all residents are rich and no need to work but we do have a very thoughtful and caring Sultan!

Flipping the breakfast menu.

Well, this is our no-view punya window view.
Reminds me of Hotel Maya in KL.

Our NT50 x 4 coupons given.

There's a lot of entrance to the 85 building, so if you want to live in minsu (homestay), go to Chichang Road entrance.
They have a very interesting system in the building. From the lobby (ground floor), you can only go up to the 12th floor.
Then, on the 12th floor.. there's another lobby area with all the homestay offices showing if they still have rooms available and the price. It's like a… "Room Court" (You know.. like food court selling food, but this one renting rooms).

Instruction on how to open the door.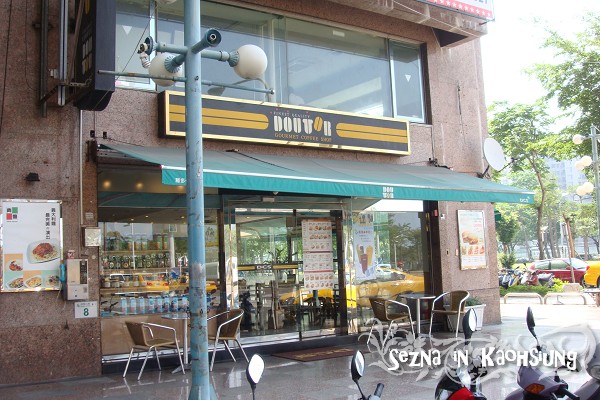 This is Doutor 羅多倫咖啡, just across the 85 building.

Our breakfasts. 米蘭帕瑪三明治 & 派皮三明治

Eat full full got energy to jalan liao! Walked to our nearest MRT station.

Now, this is an eye test for you all!
Can you spot the traffic light for pedestrians?
Squint your eyes now… look very hard!
Seen it already? Already? Already?

Nah here! Super lui one lor!
Yes, scroll up again and see where is the bloody traffic light post!
Where got like that one, not put directly across, put… sebelah till like that.
Very scary one loh, the traffic in Taiwan. Cars can u-turn in the middle of the cross roads. Then, if like you want to turn to the left/right, you can actually stop in the middle and wait for your chance to just cucuk in the line!


Like this, as long as other cars can pass, they will just wait in the middle of the intersection.


Blue blue sky

Err… I sakai see a SNG car.

The automatic ticket issuing machine in Kao Hsiung is easier to use than those in Taipei. All you need to do is just select your destination, unlike the one in Taipei, you need to check the price to reach and select it. Wasted more time on that.
But, still better than the train one. That one gila one.. I gave up and went to queue instead. 

Say hello to the mother of the trip. I brought along two "kids" to Taiwan, my mother and Bobby. Everyday, they would asked me "Where are we going next and where are we now?"
Haih…

Disciplined.
People automatically stand on the right hand side of the escalator because the left space is for those who are in a hurry and prefer to walk to save time.
Unlike those in the Mall. Hogging the whole escalator chit chatting. Hate it especially when I was in a rush for the movies lah.

Reached Xiziwan station and walking towards Gu Shan ferry pier.

There, the Gushan ferry pier. Different entrance for motorcycles and pedestrians.

NT15 per person.

Limit to 154 person and now 7 on board.

This is the ferry. Reminds me of those we used to take when heading off to Miri and back. Having the exact same motor or engine oil smell.

Inside the ferry.
The ground floor of the ferry is reserved for motorcycles and pedestrians have to go up the stairs to the first floor.

Heading to Cijin!

Name of the ferry

Along the Love River.

Note the dark clouds behind us!

Reaching Cijin, it is just a short.. 10 mins ride.

Cute oil tanks! Hi BSP, can we color like that too in our Seria refinery?

Cijin's pier. Vintage looking with red bricks.
The original plan was, renting bicycles and tour around Cijin. (NT100 per bike for.. I forgot how long). And when I asked how long does it take to cycle to the windmill park, they said…. 45mins to an hour!
Fuyoh!
Gave up the idea and took a cab instead.
It started to rain when we reached the windmill park and without any umbrella, we just braved ourselves in the rain, shocked to see really huge waves pounding against the wall and took pictures while "wah-ing" and "woo-ing".
The Cijin Wind-power Park is the first of its kind in Kaohsiung City and Taiwan that combines tourism, leisure and environmental protection.  The park occupies an area of 7.5 hectares and has seven unique   tri-blade windmills, whereas the power generated is sufficient to provide the park with four hours of illumination at night.  The park has hundreds of coastal arbors as well as wide, expansive lawns, so that visitors can enjoy the nature, have a leisurely picnic, or fly a kite.  In front of the windmills, there are also an observatory and a performance square where artistic and cultural events are held. 

Some brave tourists. Can you see how huge the waves were?

Was expecting sunny blue sky for some good camwhoring session.. sekali.. semua jadi gray. But still, it is an awesome park.

Bobby and his long-lost brother what the falalalala.

Wuiseh, ever got people fly kite there is it?

On the way back to Xiziwan.
Bobby and I wonder what's that on the hill top. Light house? or some rich politician's resident?

Two separate exits for pedestrians and bikes!

One way ticket, one way ticket, one way ticket, one way ticket, One way ticket to the BLUESSSSSSSSSSSSSSSSSSSSSSS!
Back to our room and ate some quick lunch before heading off to Chiayi.

Noms noms!
Bobby's 满汉大餐*醍醐东坡珍肉面 is the bomb!
No chance of it selling in Brunei since it's not halal. Sigh… Miri got or not har? Want to sapu a lot back. Am-kuk only bought 2 back lah.
Oh, the rice in the packet is my mom's 香椿炒饭。

You see those meat????
You thought inside cup noodles sure dry and "chewy" one leh.. this one.. so tender and juicy okay.
Tell me where got sell okay. Don't tell me Singapore or KL ah. So far, how to bring back. At least if Miri or Limbang, easier to bring mah.

Dropped the keys off.

Took a cab to Lotus lake (because my mom wanted to buy something) then to ZuoYing HSR station.
We thought of using MRT but… the entrance of the mrt nearest to our place has no escalator down. Not going to lug the luggage down the stairs! Plus, 3 persons share one cab.. not too expensive mah.

Reached Chiayi half an hour later!
From Chiayi, if you want to go to Alishan… you can only take either bus, taxi or rented cars. The railway was destroyed during the 8-8-flood in year 2009 and.. it's going to take another 2 years to complete the project.
So, to save time and get more comfy, I just arranged with the minsu owner to get someone to pick us up from the HSR station and go up to Alishan.
And… we're lucky that the person who picked us up was this handsome young lad (26 years old), named Isaac, driving the new Camry and super nice to chat with. The entire road trip (almost 3 hours) was really enjoyable!
While, my boyfriend… who totally catch-no-balls slept the entire trip to miss out all the beautiful landmarks along the way.
Haih, should have taken a picture with Isaac. My mom really likes him and gave him BND10 for remembrance.
From him, I got to know more about Taiwan and a lot of silly information.

Petrol station.
I asked Isaac a lot of questions… like car price, politicians, army's salary and so on. He talked about his childhood, family and lots of other random stuffs.
The price of automobiles in Taiwan is more or less the same in Brunei! It was so funny when Isaac assumed we're from *cough* neighbouring country and when we said no, he said this instead…
"I had guests from *the country* and… from the sound of it, it's quite kasian to live there. Stuffs are expensive, salary is low, it's not safe and if something happened and you need help from… *cough*, you need to give money in order to process."
I was chuckling when I heard that and at the same time, proud and blessed to be a Bruneian.

Along the way… with a lot of pinang trees!
My mom was quite … against the thought of going to Alishan at first she was imagining muddy roads up hills. And when we arrived seeing how beautiful the place was, she let out a sigh and said, "Aiyah.. you should have told me that going to Alishan is like going to Labi mah"
-_-"
Well… it is quite similar to the road going to Mount Kinabalu actually.
After seeing lots of pinang trees plantation and tea plantation…

saw this on the way… Isaac said passing this waterfall will kind of give all the information. When it's really heavy, then the villagers have to start worrying and when it's dry.. they have to worry too.

And here we are…
欣欣民宿 – I think, that's my favorite stay for my Taiwan trip. Maybe because of the weather, maybe it's because of the people.. or… Alishan felt very much like Seria, very relaxing and slow.
I read up a lot of forums, there's mixed review on Xin Xin Minsu. I chose that because of the location and also.. the price.
The location.. is unbeatable!
Right next to 7-11, post office and just 2 minutes away from the train station. Oh oh, the tourist center is just across too.

Our room in Xin Xin. Isaac saw our luggage and upgrade us to a 6-pax room with no extra charge. Haih~ 这就是台湾人情味!
Yes, there's no air conditioner in the room because.. even in summer (the time of our visit, the average temperature is 16 degree Celsius. During winter.. it's –2, –3 degree!)

Hehe! The room got  天窗!
Though Bobby and I couldn't manage to get it opened. Maybe it's sealed?

Small but cozy room

I love this! My childhood dream is to sleep on the upper bunk lah.

The only bad thing about this home stay is… no elevator.

Yeap, we had to wake up at 4am to get ready for sun rise.

Umbrellas for tenants

The very friendly lady boss (Isaac's mother) with some random auntie sipping and chatting.

Aunties having conversation about this sun rise photo. Can you see a Buddha (Guan Yin) figure in the photo?

Roaming around…

Yes, this is a post office! Looking like a temple~

And there's where I bought the Crayon Shinchan stamp collection. Haih, even post office also nice to shop okay.

Most post offices in Taiwan also have banking services.

Hello tourist.

That's the 7-11 next to our home stay. And.. a chap-lap (closed-down) cafe.

Staircase to walk to the train station.
(The wooden hut you see in the picture is the train station loh)

Tourist center.. or… Visitor center.

The temperature..

Shopping for souvenirs.

Huge furry dog!

So cute, the dog.. not me.

For Bobby's colleagues and friends.

Hungry, went for light snacking.. which turned out not "light" at all..

卤肉饭。Braised pork rice

贡丸汤 (Meatball soup)                          饺子 (dumplings)

Bobby and I were just wearing shirts and jeans and… we saw a lot people wearing thick jackets and sweaters… No thanks to the intensive (a/c) training in offices here in Brunei.

Went back to our home stay and surfed a bit.
I was using my lappie while Bobby struggling with the one he was using… in Chinese.

Picked random restaurant to dine in.
(Well, the trick is.. see whichever got more people then choose that one lor)

Hot pot for the soul

My mom's fried noodle.. with no wok-hei…
Maybe, I'm just too used with Seria's fried noodles/kueh tiaws.. with dark soy sauce and smoke coming out of it slightly charred.

Chicken with some unknown plant.. I think it's their famous wild wasabi plang.

Their chicken meat was really… chewy. You know, like those kampung chicken, got exercise one.
Had dinner and went back to rest because we need to wake up at 4am the next day for sun rise.


Bobby Little.
That's all for Day 2.
Next, Alishan sun rise, national park and… Taipei 101 and Shihlin Night Market!
Related Posts: