So yeah, we arrived Taipei at about 4.30pm, went up to exit M3 because our minsu was right next to it. Like.. really next to it! 48 also arrived at the same time so upon checked in, we all rested for a while (and my mom had to watch tv at any free time gaps) while 48 and I spent some time catching up and discussing about our itineraries.
So yeah, that's where we stayed for 5 days. Good location albeit in an old dodgy building with weird neighbor and a clinic next to our room. Weird combination right?
There, the area we stayed is right in the middle (intersection). Taipei Main Station. Not only that, the high-speed rail station is there, the Taiwan railway station is there too, even the bus terminal also next to it. Can you spell C.O.N.V.E.N.I.E.N.C.E now?
Mm… there's 2 female fortune tellers doing business at the ground floor, then a snooker place in the basement, and some massage parlors somewhere. But there were quite a number of tourists staying in that building too so I think there's quite a number of minsu inside.
Oh well, we're just using that place to shower and sleep, and maybe watch some tv.. As long as no one come kacau-kacau, not noisy at night.. I don't mind. Plus, it's cheap. NT8420 for 5 nights! About BND73 per night for a 4pax room. And no, I didn't see any prostitutes around.
After a quick rest, next – Taipei 101!
World's tallest building until the opening of Burj Khalifa in Dubai. Honestly speaking, I was expecting something more magnificent. Like you know, clouds surrounding the top like Jack and the Bean Stalk. Hey! It rhymes!

Obligatory tourist shot.

Hi, meet my best friend.. whose currently taking a 6 months off her job and now in Taiwan doing part time English tutor (out of boredom – 1 week don't chat with her liao, dunno if she's still doing it or not) with her boyfriend taking Chinese course in uni now.
潇洒 or not? 想做就做!羡慕死我啦!可是,整天无所事事也挺无聊的。像48酱,想吃一碗老鼠粉都没有。一碟炒粿条贵到死。回来Seria啦!哈哈哈。
With her around, I was super distracted and talked non-stop laughing at our own jokes. Lucky Bobby was there companying my mom. Aiyah, we only see each other.. average once a year nia wor.

Will tell you what's that building later.

Inside Taipei 101 going up to the 5th floor, to the ticketing counter and entrance.
Sakai first time see lcd screen inside elevator can or not?

Skipped all other floors because.. there's nothing inside I can afford.
(Some of the photos turned out blurry because, I was taking it while walking and didn't bother to check. 48's fault. Hahahhaa)

It was Thursday when we visited and.. there's no queue at all! Wooohoooo!!!
48 said previous week when she came with Shane, there was like 3 waiting areas and so they gave up. Sekali when she came with me, don't even need to queue can!
Tip: Visit Taipei 101 on a weekday!

Our tickets and some vouchers.
NT400 per head. My mom chose to stay on the fifth floor because she's afraid of the height, like Bobby. No matter how we convinced her and told her that it's not scary at all, she still doesn't want to go up. Haih.

Then, while walking along the queuing line, there's a stop somewhere for tourists to take photo and you can view it when you're up on the 89th floor.

Inside the high speed elevator. The elevator-boy spoke so many different languages! Okay, I actually forgot how many but I know there's Mandarin, Hokkien, Japanese and… some other I don't remember. He's such an eye-candy too, though… in the dark I could only take short glimpse of him.

Whimsical ceiling inside the elevator which made me feel like I'm a space girl or fairy what the falala.


Evening..
Another tip, if you're greedy and kiasu like me… go to Taipei 101 early evening because you'll get to see both day and night view up the tower! Untung right?
To be honest, day view from Taipei 101 doesn't look very appealing to me, since.. I can't even name or tell those buildings I see from above.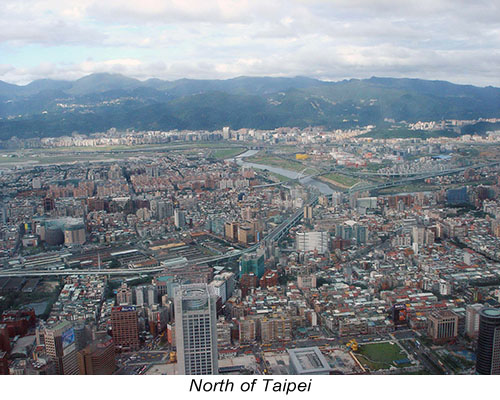 Night, with all the street lights, moving cars… like more mysterious and sexy.
For me lah for me.

Was hoping I can see China from there wtf. Hahahaha.

Remember the place where tourists can stop and take pictures at the waiting line? When you're up on the 89th floor, they will display your freshly photoshopped photo in both day and night view. I don't remember how much it is but I know it's super expensive lah.
Chehhhhh… I cannot photoshop myself meh?

So we stood very far away and waited for our photo to show. There's a sign saying that cannot take picture there and so I pretended taking pictures here and there waiting for ours. Haih, my lumix punya zoom can go eat shit.

Big Tom ice cream.
Nope, even with those vouchers given, we didn't spend on any of those sky cafes. When something you don't want/need selling for $10 is going on sale for $8, and you bought it, you don't save $2, you SPENT $8. Humph, I won't fall for tricks like that. HAHAHHAHA. Frugality rocks!


The main tuned mass damper – to withstand strong wind.
They "cutified" the damper by adding 101 as eyes and nose, then add different colors and called them DAMPER BABIES!

The red damper baby, which 48 said very got "teacher" feel.
(More like Harry Potter eh?)


There, the real teacher and the one pretending.

Bobby and another of his "Smell my finger" pose. But, er, baby, itu mulut eh.

Outdoor observatory closed because of strong winds.

Damper baby and the kuat but boring tua-kor-dai.

I'm sorry wen, gray damper baby loves me more.

With both of my favorite person in the world on the responsive floor thingie.


Tell me, which one will you want to adopt? Me right? Don't shy lah you, I see that photo also want to pat myself on the head, looking so ah-ter.
And, I love my super-layan boyfriend.

Some expensive coral artwork.

Amazed by how detailed it is.

Eh, hello Taipei 101, you got a dying fish in the aquarium…

Time to get souvenirs!!!
Not cheap okay! I can only afford stickers and a ruler.

NT30 for the sticker and NT50 for the rainbow 3D ruler.
Next, Eslite!

101 at night, taken by a "couldn't care less" photographer.

There, this is Eslite (Xin Yi store)
If you read my blog (posts by posts), you would know that I occasionally ordered books online from Eslite (because it's slightly cheaper than getting from Miri Parkson and also, more varieties and faster).
When Eslite opened their first 24-hour bookstore 17 years ago, they started a trend. The latest XinYi Store is eight stories and 7,500 pings large and has adopted an even more international and unique style that surprises visitors with what a bookstore is capable of. Situated near the Taipei City Hall MRT Station, this new store intends to become "Taiwan's cultural window to the world". The second-to-fourth-floor bookstore has a collection of over a million books, making it the biggest in Taiwan. It also introduced a new concept of shops within a bookstore, with a Japanese bookstore, simplified Chinese bookstore, arts bookstore and many other outlets. There is a wide range of English and Chinese books, as well as audio/visual equipment in a specialized department. Other floors offerings include the first-floor Design and Living Floor; an almost 200-ping-large children's bookstore and children's discovery museum on the fifth floor; the Eslite Culture sixth floor with a theme restaurant for speeches and activities; a B1 level mainly selling young trendy designer items; and a B2 level offering snacks and exotic foods, as well as vegetarian dishes, to fill browsers' stomachs. The Eslite XinYi Store is a whole new world of possibilities.

Source from here.

It's a must-visit for me okay! I bought 5 books in just 30 minutes and Bobby bought some comics too. Their handicraft section… I see till eyes also berbunga! And their travel section has like, 10 shelves! Categorized by countries and areas!

That's my baby with our trolley.
Don't you think he looks like….
Sorry, I can't resist. The emptiness in his eyes is just so…
Another tip, bring your passport along and enjoy a 5% discount!
I only knew this when I was paying and the cashier asked if I have member card. I told her I bought books online and she said if we're tourists, just show our passport and we'll be given 5%. Syok!
After shopping, we took the MRT back to our minsu (the joy of staying in such convenient place) to drop our shopping and off to Shihlin Night Market.

Yes, the infamous Shihlin Night Market!


You can see the Shihlin Food Court when you exit the MRT station. If you want, you can walk further down the road for the night market, where they sell apparels, arcades, pets and more food.


The Shihlin Food Court, which is just enough is you're only hunting for food.
We're being adventurous and walked down the night market (and got lost for a moment)…

Giant takoyakis!

It's delicious! Not very flour-y inside despite of the size.

People checking out the cute puppies. It says no camera so I only took this from far.

Some funny mahjong game called, MAHJONG BINGO.
You get to choose 15 tiles, arrange them and… Bingo? The prizes are quite attractive though.

Wen, I mean 48 bought this.

Very filling. I only took one bite and.. enough.

Bought this for mom, cos got vegetarian one.

Nice wok

Errr… curry potato inside.

Then bought soem vegetarian … I don't know what you call that in English, the food on the bottom right.
Shopped a bit here and there and went back to the Shihlin food court where they have more food there.

This is a must-try! It's super famous and the queue just never stops!
Lucky for me, it's a Thursday night and the waiting time is less than 5 minutes. Someone up there love me very much.

HUGE! Crispy and flavorful.
If you go Shihlin and didn't eat this, you don't tell people you went there ah. Kana boo one I tell you. 

Bobby and my mom bought some drinks from the stall next to Hotstar.

48 bought this…

Very weird.. it has yam, peanut and… I don't know what else. I thought it's salty but, it's sweet.

Oyster pancake with plenty of starch!!!!
When I tear open the pancake, I could see one whole lump of transparent starch there. Not a fan of this.

The cuttlefish soup was better, though.. quite starchy too.

DID YOU SEE HOW BIG IS THE SAUSAGE??
But.. as you all know from the previous post, after Bobby and I puked the wild boar sausage, we tak sanggup take sausage anymore.
It's a shame that we didn't try a lot of food (I thought I can eat more but… obviously I misunderstood my appetite) but yeah, no regrets. Hehehehe.

Bought these 2 pair of shoes from a shop having clearance sale. Everything inside is NT99! Jeans, jackets, tops, shoes, everything… everything NT99!!!
BND4.30 okay!
Okie, that's all for my Taipei Day 1.
Related Post:
Day 3: Alishan sunrise (Part 1)
Day 2 : Up up and away to Alishan
Day 1 : Kao Hsiung
How much to travel to Taiwan?