As in the soft portable container made up of plastic, cloth or crocodile/ ostrich skins which you put your mobile phone, keys, wallet and other lap-lap-chap-chap in and not the company BAG NETWORK.

I must clarify that I'm not a shopaholic nor a bag addict, but I do have a thing over bags. Shoes too, but not as much kua? Nevermind me.. now no money talk what also kosong one.


FussyKelly and I had a lot of random chats via MSN talking about branded bags and sighed why it seems so freaking easy for some people to own one where else it took us years... and maybe decades (until now!) to "tick-hei-sam-kon" and buy one to pamper ourselves. And all we have now is Guess bag nia. Even that also macam payah-payah.

note: tik-hei-sam-kon - Cantonese, lift the heart up; meaning make a firm decision.

(And... I got my first Guess bag from Victoria Secret... some more, on sale lagi baru I buy)

There's this a girl who went to Singapore and bought a LV and that's it... When asked if she got buy anything else, sorry... nothing, because no money left after buying that bag. And for some other girls, the meaning of "afford" means - max out all the credit cards in order to get the bag she wants and worry later.
Sigh. If only I'm that crazy or brave enough to spend like that and pamper myself.
Hehehhee.

Anyway, I'm going to cut the poo-poo now.

Everytime I saw an ad of a certain pretty bag in the magazine or tv or internet or some rich taitai or gorgeous young and glamorous ladies carrying it, I couldn't help but swoon with delight. And if Bobby was next to me, I will never let go of the chance to "educate" him just in case next time he's going to buy me one and know which one I like. Hahahahhahaa.

And normally his response would be - frowned and asked, "It's just a bag. Why so expensive?!".

I think any bag-addicts will turn around and squeal, "It's not JUST A BAG! Its Chanel/ LV/ Berkin (Wu! *Drools*) / Jimmy Choo/ Marc Jacobs/ Fendi / (and the list goes on and one)!" 

Hai yah! Telling bags to men (BryanBoy is an exception) is just like, playing dodge ball with oily hands, catch no balls lah!
 
Once while waiting for the movie to show on the screen, I saw this fine lady with a Burberry scarf on her shoulder and nudged Bobby. "Eh eh, That's Burberry... "

Guess what he replied.


"Branded ah? Looks like my umbrella.... "




Wah lao eh.. Really wanna puke blood you know!
Obviously, it's a fake that's available in any supermarkets or $1.80 shops.
Where got so sot really go and buy a £95.00 umbrella.  

"It's just like Rims to you men, I guess? Costly and.... it kinda looks all the same to me"

"I'm not into cars though."

"Bah, football then. The magazines, books, VCDs, DVDs you bought.."

"But it's not expensive what."

Really speechless.

I found a better example now. Pornographic! Its the same buns, sausages, chrysanthemum and caves.... just with different sizes and colours. LOL! If you get what I mean.

Note: I have 11 years old reading my blog so I gotta be careful with my choice of words.  




When I put up my new personal message in my MSN nick,
"Birkin is just too far from me. I'll settle for Paddington or Spy".

And some MSN-ed me and asked, "What Berkin?"....
I immediately replied, "BIRKIN ah, NOT BELKIN!"
Having bunch of computer geek as friends doesn't help much sometimes when it comes to fashion. I know they thought I spelt Belkin wrongly one. Hahahhaaa.

This, is Birkin.
(Like Samantha Jones, I would yelled back if someone says "It's just a bag" in front of me.)

... which costs more than my Corolla.
The "got-money-also-tak-mestinya-dapat" Bag!

Just read this block quote,

Availability

Generally, the price of a Birkin starts at approximately $7500 USD, not including sales taxes, but can reach 5- and sometimes 6-digit prices, particularly when the bag is constructed from exotic animal skins. Allegedly, the waiting list for a Birkin is over two years. In practice, however, many stores have a "call list" and an "order list", both usually consisting of clients who have in one way or another become "regulars" or have formed a relationship with a particular Sales Associate.
The waiting list may close anytime. Well, unless you go shop in Paris lah.  

Of course, being Mrs Beckham is also a different story.

White Birkin!!! So leng-lui~ the bag.

The little Kelly bag so cute hor?


I think she herself lost count the number of Hermes she has liao...


It looks so good on celebs but I'm sure if I'm the one whose carrying it, people will think that I bought it from pasar malam. So tabalik the story, if its Vicky-B, walaupun carrying a fake one people also won't suspect a thing. Right?
For my last Singapore trip, I finally got to hold an authentic Hermes long wallet... HERMES,
on my hand!!! I flipped open and checked the compartment inside. The sales attendant was really nice and told me it's on sale now. So I immediately asked how much...

Even though on sale hor, its still SGD3,700 +....


I put back gently making sure I didn't dirtied it and stop talking terus making sure I wouldn't spit my saliva on it. Only when the wallet was passed to the lady's hand, baru I said..
"Okie, it's still beyond what I can afford now.. Gotta wait till I earn/save enough."

I have no idea why I voiced out the OS in my heart. So malu can die lah now think of it.

So yeah, Berkin is definitely beyond my reach. Paying $25,000 for a bag is just so not "Nonnie". Imagine the number of things I can buy rather than having this expensive bag in the dust bag lock inside the bolt, and feel really sayang to bring out to use... Bring out to use also scare scratch or dirty. And... letting other people touch my $25k bag with sweaty palms or handle it carelessly... I cannot tahan lah.



The next bag I like is....
this, Chloe Paddington.
(created in 2005)
with a much friendlier price... ₤125.00!
(Hmmm... shall I add this to my Birthday wishlist? Hahahahhaa)

I don't know... I'm a sucker for locks and buckles! Show me any bags with locks and buckles and I'll tell you its pweeeeeeeeeeety!


Fendi B Bag is cute.

 


The shoes above... out of topic. Hahahaa.
I just think its beautiful mah.


I got see one episode of "Hot Topics" which Ah-Ya mentioned Xiao-S gave her mum a Paddington bag and the mum "hiam" the lock too heavy and removed it. Hahahhahaaa.


Fendi Spy
(2006)

What? Not pretty meh?
Well... I'm not asking you to agree with me anyway.
Channel 2.55
(since 1955!!! Rock and Roll Classic never dies!)



Seriously, how can anyone not know Chanel 2.55? It hengs from 1955 unti now leh! But I don't my current age can carries this bag well... Just give me another 5 - 10 years. And every time I saw YeeMan showcasing her Chanel collections in her blog... aiyer, my eyes really wanna pop-out starring at it with my mouth open lah!

(Note: heng - 流行. The latest trend? )

Just take a look at her latest purchase...
* Mamma mia, here I go again
        My my, how can I resist you? *


As for LV.... I can never pinpoint any particular bags that make me feel suffocated, I don't know why. Maybe because I can never decide which Monogram Canvas/ Multicolore (white base please)bag I like. Speedy, Neverfull, the cute Popincourt.

Too many shapes to choose liao.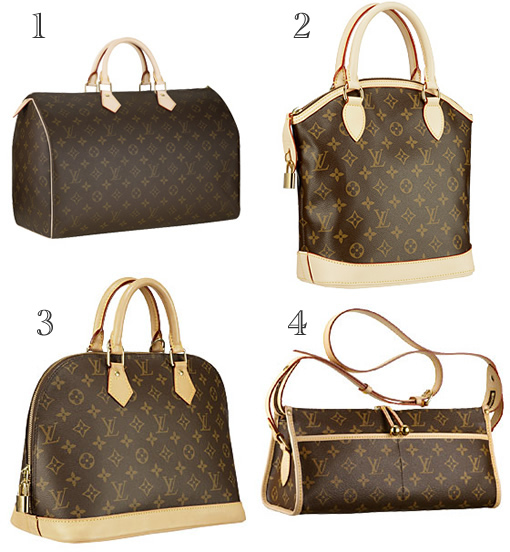 (The above one... I like 1 and 4)
I do like the Mahina line though. Feels comfy and casual.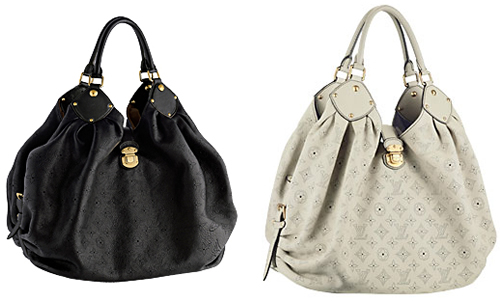 See. Got a buckle and... its white again. Hahahaa.


I think that's about it. I'm lazy and tired to post the Gucci or Dior bags that I like liao. Maybe someday when I'm free I'll go compile my Top 10 bags.

I know this post makes me look like macam very materialistic and brand-conscious. Well, I do like to surf around in the internet and check out the latest fashion trend, but look at me.. do I look like a fashion icon to you? LOL. I'm still using my brandless koyak-here-and-there lauyah bag for everyday use and I had not done any baju/shoe shopping ever since my SG trip last June.
This post is not meant to hypnotize you to like branded bags or what. I just feel pretty down lately so I thought I might as well post up something that will make me feel happy by looking at the pictures and motivate myself? Gah, whatever my reason is.. I just don't wish anyone of you will go and comment my taste in bags because... I don't need you to tell me what is pretty or ugly and you can save your "2 cents" in your piggy bank.

Thank you.

But, you can tell me what bags you like though. Heheheee. Or maybe look at other people punya top 10 bags.