No lanterns, no mooncake.. no celebration.

We're all invited to Theen's korkor's wedding so instead of being kiddish roaming around the neighborhood and comparing who has better and cooler lanterns this year, I had to put on slabs of make up and attended a wedding dinner.

Well.. at least I had Kelly sitting beside me keeping me company since my mum was sitting on another table with her vegetarian kakis.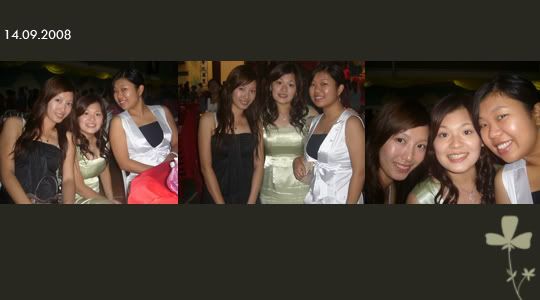 Can you tell that I'm lazy to blog?
I took quite a number of pictures for the past few days when I sungkai-ed with my beloved CIS18 and went to RIPAS yesterday for blood donation with Bobby and Atul. I just feel not motivated to blog laaaaa...
But reading back my achieves is fun though. I have no idea why was I so semangat in blogging spending hours and hours of my day thinking what to blog next and editing the photos. I'm getting older, that's why. Cannot cope up with youngsters nowadays. They have much livelier life (?) and lots of duracell batteries in them.
As for me, everyday after my class or driving up/down for an hour.. I felt damn exhausted and didn't even want to lift my finger at all! I have nothing to look forward to.. Isn't that pathetic?
Oh wait, I do have something to look forward to at the moment. But I got to wait another 1 month plus for it, my darling 48 is coming back again~ Yay. We're going to have a boat trip with fireflies dancing around us soon. =D
Aiyah, I'm not even funny now.
I think no one bothers to read everything also lah.
Gosh, I need a vacation to rejuvenate man.
Aromatherapy is just not enough to keep me going for another 3 months!
PSL! If you're reading this, you better get us something good from US for not able to attend the wedding ah. I have one less friend to gossip and that's just very sien okay. My dear friends, I hope tomorrow tea jadi ah..
Dear God, please make Kelly's migraine go away else it'll be me to be the next who'll be sick because stuff too long at home.
(If you're wondering why Bobby is no where to be found to entertain me, that fat guy is busy studying for his tests.... Boh eng chap me now)