//Re-edit//
Our plan for our second day in K.K. was visiting
Pulau Manukan
, one of the infamous island there. And so before departing, we went to grab something to eat first. It was already 8.45am when we set from the hotel, hoping to find some eateries nearby just to fill up our hungry tummies.
But man.. the nearest restaurant that opened that early was this.
(We're actually hoping for those al-cheapo open air kopitiam with waiters/ waitress shouting "KOPI-OH SATU!" and RM1.80 kolomee. Kolomee is just one of our staple food.)
So we had these instead...
(I ate more than Bobby through out this whole trip.. Sad ain't it? The boyfriend thin thin already, the girlfriend still munched like a pig. Sigh....)
I know mine was pretty heavy, but the serving wasn't as big as you thought. It was just nice for me.
Bobby's breakfast set cost RM4.90 and mine was RM7.90. Not bad right?
* * * * *
We took a package that cost RM40.00, inclusive of transportation from our hotel, to the jetty, then to the island and all the way back again, life jacket and beach mat. Not sure if that is considered cheap or expensive though.
Views from the jetty/ port
And, I'm not sure if it's really called
"Kampong Aru"
. I know that area is
"Tanjung Aru"
, and so I simply made this name up.
* * * * *

Ahhhhhh.... Sunshine and beaches! Fishes and
(dead)
corals...

Saw people feeding the fishes, and also some fake fishie too..

There was damn lot of people on the beach.. Tourists mostly, Korean, Japanese, Hongkies, West-Malaysians, Singaporeans and least among all... Bruneians.
We're greeted in Cantonese everywhere we went. Some even saw Kelly and said,
"Konichiwa"
!. They either thought we're from Hong Kong, KL or Singapore, and none guess Brunei. Why ah?
Taxi Driver: Last time ah, I went to your place there ah...

*bla bla bla bla bla*




Me: My place, where?


Taxi Driver: KL lor. Wah..your place there so big .. yadda yadda yadda.

Staff of Manukan: Hello. Welcome. You from Hong Kong?


Me: Erm... No.


Staff: Singapore? KL?


Me: Eh... No.


Staff: And you're from...?


Me: Brunei.


Staff: Oh I see!

(Lucky he didn't go

"Wah...Brunei so rich and so on..."

)



Me: Is there anything nice to see at the night market?


Waitress: Eh... ok ok lar.. Cannot compare to your place there lah.


Me: Where do you think we come from then?


Waitress: Aiyah... not KL then Singapore la of course.


Me: No bor... Guess again.


Waitress: Har...? Then I don't want to guess liao.
See!
Even when I went to Bangkok last year people also thought that we're from Singaporean. Because we sounded like them.... So, does that mean that Brunei Chinese speaks
Singlish
and same same
kiasu
?
* * *


Some interesting people I saw at the beach...
Chinese uncle who swims with cap on.

Macho men in their tight Speedo
(they kept walking around the beach and never get themselves wet in the water..
Think they went there for show only)
Cute Japanese kids who talked so damn fast that what I heard was just all
"gi-li-gu-lu"


Sexy angmohs tanning on the beach


It's funny to see that the spots that Chinese
(or any typical Asians who think fair = pretty)
picked are all shaded. And all
angmohs
prefer to lay their beach towel anywhere directly under the scorching sun.
Stupid couple who loves to pose idiotically

Of course other than posing, we swam, we snorkeled, we slept, and
cuci-mata
. The really sad thing was that the corals there look so dead, compared to those I saw when I went to Pulau Gayana three years ago.
There was some locals who walked around with a piece of laminated paper asking if anyone was interested in riding the water scooter, banana boat or para-sailing those kind of activities. But it was quite costly though... Maybe that's the reason why we didn't see anyone playing water sports there.
You might want to prepare a paper bag in case you felt nauseous from seeing the below photo.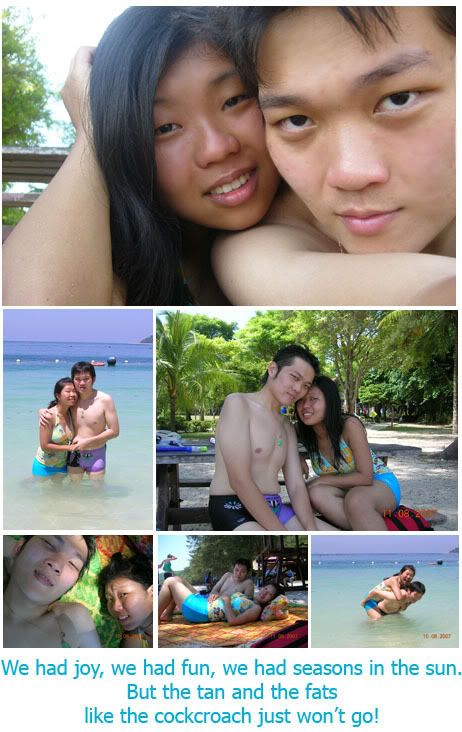 My initial plan was to lose at least 3kg before wearing that swim suit in public
(so that I won't have to walk around sucking air in just to hide my bulging tummy)
, and of course... I failed to do so. Hah... I never tried anyway. Hhahahahhahaaaa. I'm those who always say
"I'm fat. I feel fat. Look at my tummy, it's so big. I hate my thighs and butt.."
, but am always too lazy to get my butt off the chair to exercise.
Note: I'm allow to say that but not you! So don't come and tell me things to "motivate" me because it'll only makes me hate you. As if I don't know all these. It's my body, it's up to me whether I want to keep it slim or chubby, not you! *Huffff*
Thank God for granting me a boyfriend who prefers me to be chubby, loves to feed me, tells me that I look fine even though I'm overweight and thinks that wobbly fats around my tummy looks cute.

....which can be pretty bad because he's good at de-motivating me whenever I feel like losing weight.
* * * * *

Bobby and I were sleeping on the mat, okay.. actually it's me only because Bobby couldn't stop worrying about our money and camera in the beach bag and prefer to stay alert while the rest were all relaxing.
23 yet behave like 53.
Kelly and K.L. went snorkeling under the bridge and after awhile, Kelly ran toward me and shouting like a kid trying to get my attention.
This jobless girl
"fish"
a sea cucumber from the sea bed using her snorkel mask and ran all the way to me just to prove that it wriggles.
(Because I was randomly told her that I wonder if those motionless sea cucumbers lying we saw are dead or alive)
No sea cucumber was hurt in this post. We didn't torture it, but perhaps it suffered from ear pain or maybe it's deaf already because we shouted every time it wriggles.
It was almost time for us to leave
(last boat departs at 4.30pm)
, Bobby and I rinsed ourselves with clean water and dried ourselves up under the tree, wore our dry cloths on and waited for that beautiful couple whom were still Nemo and Dory-hunting.

He looked so funny with shirt tucked in, pulling the pant high up the waist.
Plus the dumb hair and blur face... LOL!

* * * * *
Kelly spotted this guy and nudged me,
"Eh, eh... look look. His nipple....."
. Damn hamsap lah this girl, who would go and noticed that?
Nevertheless, he looked quite cute though... but his titties are very distracting.
I showed this picture to my colleague Rohana and she said maybe he felt really cold that time. Hahahahhaa!
It was low tide when we reached the jetty, the river bed was dry and kids were playing football there. Fascinating...
Remember that I mentioned that Bobby and I were already dry and that 2 were still snorkeling? Because they're in a rush so Kelly simply wrapped her lower body with the hotel towel and K.L. just wore back his cloths.
And.... she just walked in the hotel lobby and checked in like that!!!
I was laughing so hard walking behind them. I mean.. when was the last time you saw a pretty girl in towel standing in front of the check-in counter? And a pretty boy wearing glasses that my granddad wore during his times with his butt wet!
* * * * *

Dinner time...
SEAFOOD TIME!!!!!!
We had no idea where to eat and so we just look at those flyers and brochures looking for any recommended eateries... We choose an open air food court that has a varieties of seafood restaurant combined with some local stalls. Tell you, regret man!
Tip to all of you out there, if you're not familiar with that place.. don't go there. Go to some restaurant that doesn't joint with others..
Once we stepped in there, a lot of aunties and uncles, kor-kor and jie-jie rushed to us showing their menu and asked us to sit down.
We didn't want to simply choose where to eat before we checked out all the seafoods they have and also the prices...
Sigh, teruk man. I felt like we walked into a jungle with cannibals around eager to eat us up.
They kept pestering us, talking non-stop selling their foods while we had said hundred times of
"Uhmm.. we want to walk around first."
.
I
hate
hate
hate
hate
hate

hate
persistent and pushy shop attendants! I will immediately leave the shop if the salesgirl couldn't shut her mouth telling me that they had new arrivals or they think whatever shirt would look great on me.
If you want to make my money, stay away from me. I'll talk when I got questions to ask. Don't come bother me because they will only chased me away...
There was this particular seafood restaurant that we came across in the food court. The lady boss kept following us wherever we go standing only 1 ft away. We shifted away so that we could discussed where to eat but she just didn't get the hint and chase after us.
While she waited behind us, there was another man from the left walking toward us trying to sell for the forth time, and another Filipino lady from the right.... who couldn't stop yapping. These three people were from the same shop!
I was very, VERY annoyed.
Every time I wanted to talk to them
(Bobby, Kelly and KL)
, that Filipino lady interrupted. We told her to wait, we'll decide later and she just couldn't give us a chance to discuss...
Me: I think...(interrupted)

Annoying Filipino lady: Mum.... Our seafood here is the freshest. Very cheap too.. bla bla bla.

Us: Okay okay. Wait first..we want to discuss first...

Kelly: But the restaurant here....(interrupted)

Annoying Filipino lady: Why don't you all sit down first..?

Us: Wait... We'll decide later..

Me: I.... (interrupted again!!!!)

Annoying Filipino lady: We have fresh crabs today..and also our shell fish...
Okay... That's it! Enough is enough!
My face changed and looked at her.
Bobby was like...
"Oh no... Oh no... She's going to say it... She's going to say it..... Oh crap! She said it already...."
Me: Leave us alone, please!
You think she'll keep quiet and walk away? Oh hell NO! This lady here talked back and said,
Annoying and ugly Filipino lady:

*with a very irritating tone*

Wow..... Sharp tongue you have there.



Me: Thank you!



Annoying and ugly Filipino lady: I'm just doing my job here, what did I do to deserve this?

*BLA BLA BLA BLA BLA BLA BLA*

(shouting loudly to her lady boss trying to make us all look ugly...)
I swear, if its legal to hurt, I'll take off my smelly shoe, throw on her face and stuff it into her mouth!
But again... I was in a foreign land and its best not to do anything stupid.
Sigh, all these unhappy experiences only made me miss Brunei a lot. Brunei is called
"Adobe of Peace"
for nothing. I guess its hard to find another place like Brunei...
In the end.. We picked the restaurant with the best service, even if they have limited choice on shell fish. Still.. for me, service is what matter the most.
There were only four of us so we only ordered 4 dishes.
Top Left: Fried Tiger Prawn with garlic
Top Right: Steam don't know what fish
Bottom Left: Shell fish that looks like male reproductive organ in a shell
Bottom Right: Ginger Onion mussels
Don't, DON'T order mussels cooked that way. Mussels taste great with tomato paste or creamy sauce, but definitely not with ginger and onion. It shrunk so much that we could hardly find it...
Also the weird looking shell fish. It looked so different after cooking... It was originally around 7~10cm long, diameter of 1"... And when it's cooked, it became 4~5cm long and diameter of 1cm the most!
Their prawns were bloody good~!
Noticed that we didn't order any crabs? Because we already had it
last week
. And the other reason was, 1kg of crab cost RM30.00!!! It was so much more cheaper in Miri because we always ordered 2kg of crabs, cooked differently for each kilo,a plate of fried sotong, one vegetable dish, 6 bowls of rice and average 2 drinks per person.. All these only cost us RM60+.
And they tell me KK got the cheapest seafood? I wonder...
* * * * *

After dinner, we went to the night market nearby and there's nothing much to see there. All pirated sunglasses and fake ornaments.
Walked to Warisan Square again and did some last minute shopping.
Bobby was given a task of buying his own working cloths
(for next year after he graduate)
, and damn... I was shocked to see how good he looked in it.
I don't care if you think he's not. I'm going to be childish and say,
"THIS IS MY BLOG. I SAY WHAT I WANT. IF I SAY MY BOYFRIEND IS HANDSOME, THEN HE IS! THOSE WHO DISAGREE, SHADDAP AND LEAVE! "
=p
Those who knows him personally will know that his usual attire is combination of loose and old tees, plus jeans or long khaki pants..
And if he's not seeing me for the week, he wouldn't even bother to shave.
So it amazed me when I saw he dressing so smart. Very leng-zai wei....
I can't wait to help him wear his tie on his first day to work, help him to match his shirt, pant and tie.
*Dreaming the life as Mrs Lim*
* * * * *
I forgot to mention. This two guys
(Bobby and K.L.)
cared for their skin complexion so much that they can't stop comparing their skin which got darker and the parts which remained fair protected under the garments.
We all get sun burnt, but having a darker skin complexion.. it didn't hurt at all, unlike our fairer boyfriends.
So I went to Guardian and bought Bobby whitening and smoothing mask to calm his skin.
It was Bobby's first time. Just when I put it on his face, he was trembling all over and shouted
"Wah... COLD!!! Very cold!!!"
"Eh... you're a man leh. Where can complain cold one? Some more its just a facial mask. Come on, don't be sissy!"
Weird... ladies find it so nice putting on a cold mask, so relaxing and happily lay on the bed, watching TV or reading magazine while the pores get smaller and smaller, skin got fairer and fairer. Heaven~ And the men think that the coldness is torturing them?!
* * * * *



Oh by the way.. there was a note slided underneath the door..
While reading it, I was like...
"What the.... What makes him think that I need a MAKE-UP service!!! That's so rude!"
And after reading it for the second time, I just realized that he actually meant
"WAKE UP SERVICE"
. Can't he just write
"Morning call"
when his handwriting can be quite misleading?
* * * * *
And the next morning, which is also our last day in K.K before we take our flight back, we went to Mong Kok restaurant.
I didn't know I ordered a bloody big glass of drink that is meant for 2 person. Kelly ordered some curry udon something something served in a really big bowl, K.L. ordered something like Wat-tan-hor
(Fried wet keuh tiaw)
and Spicy p*rk noodles for Bobby.
Our food

Their cheese chicken wings and the cheese baked seafood pasta with portugese sauce is so damn cheesy!!!
The scary thing happened when the bill came. Can you believe that our breakfast cost more than our seafood dinner last night?
Our seafood dinner cost RM70+, and our breakfast - RM80+.
2/3 of our spendings in K.K. goes to food actually. It's either because we didn't know where to get cheap and nice food, or we're biased for famous restaurants that couldn't be found in Brunei..
* * * * *
And.. that ends my K.K. trip. Because after our breakfast, what we did was rushed back to Centerpoint to "tapao" Burger King for Gordon and ourselves too, then back to hotel packed up and off to airport.
Like Bobby's
comment
, I'm not going to let those unhappy incidents spoil our days in K.K. Moreover, traveling = pay to get happiness. Must must must enjoy every moment of it!
p/s: Sorry that I didn't keep my promise blogging yesterday. Because there were too many photos to edit and I'd extra class in the morning, and badminton game at night. I got home at 10p.m, shower and straight away turn my PC on, edit the pics and blogged..

But I was too tired to keep my eyes opened so I save it in draft and continued blogging today.

Paiseh ah.. Don't marah yah.. Love me still?