Just a thought.
Are you guys really curious how Bobby lose those weight? Shall I get him to guest blog to share his "secrets"?

- - - - - - - - - - - - - - - - - - - - - - - - - - - - - - - - - - - - - - - - - - - - - - - - - - - - - - - - - - - - -
Sunday is more like a friendship day than family day for me. For Sunday is the only day when everyone's not working, relaxing in the corny kopitiam and sharing gossips.
I love Sunday.
Wait.. I love Saturday more actually. Friday too. Thursday not bad also. Gah.. I love every single days in my life. Happy now?
So last Sunday, which is yesterday, I had dinner with the two besties at Excapade and bugged them to go check out the newly opened archery with me.
(Thanks to Stels for sharing me that piece of information. )
That guy
(referring to S.L, the guy below)
so ganas. He just landed Brunei at 1pm after a 18 hour flight from UK
(without any entertainment because the electronics in the aircraft rosak)
and had a tea session with us at 5pm, then dinner again again at 9pm. Ganas or not? No jet lag man.
The usual threesome

From now on, we're officially known as
"The Noseys"
! We're kaypo and live up to our name. Check out the size of our noses. Don't play play I tell you. According to fengshui ah, big nose = big fortune leh.
*doink*
We're the last batch of customers to leave and we saw the staffs there cleaning up the place. I didn't know they actually piled up the
"tudung"
of those yellow/green/blue/red plates in to a pyramid. Really made me feel like poking them with my finger and yell,
"TIMBERRRRRRR"
!
But fear no more KB-ians. The BJ. Archery Sport Centre to the rescue!
Yes! Finally! After 3 years of long waited days, it's finally opened!
Brunei first and only indoor archery!
I used to work out at the gym nearby and passed by this place quite often. Witnessed the whole process from zero to something, and wondered myself when is it going to open. It's just a soft opening for the moment but still, its a cool place to check out to kill times with friends.
We went there like, 10pm and thought it was closing. But the boss and other staffs were very kind and patient. They told us the promotions they're having now and explained all the steps precisely so we won't injured ourselves.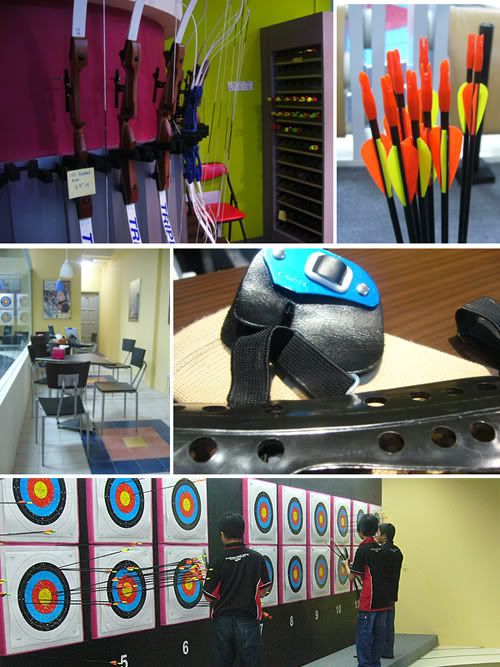 We got the B$6.50 package.
$2 for the bow
$4.50 for 10 arrows, and free another 10 arrows!
So yeah, $6.50 for a bow and 20 arrows. Not bad huh?
And while paying, I saw this fine lady who is so tiny having fun and laughing with her friends. Took a second look, OMG! It's
Stels
!
She's so small! I wish I have her "S" size and a waistline that will not exceed 30cm. It's not hard to recognize her since I'd seen her pictures posted in her blog and friendster, especially when she put up her signature smile. I guess its vice versa for her. It's never hard to recognize me neither.
Felt like a giant standing beside her lah. I want to be short! At least people wouldn't go question me when I told them I was only 17 when they idiotically guessed 23!!! Stupid. Chau McDotty is 25 and her classmates thought she was 18! Thanks to her 149cm.
(Note: Height assumed)
And yeah, Stels and her friends saw how funny my
self-made tube top
looks in real life.
=.="
Gimli
Legolas and Arwen wannabes
. . . HAHAHHAHHAHH!!!!!! What a Joke
There's something like a
"traffic light"
there. A red light and the other is green. When the red light is up, that means we got to stop shooting as the staffs need to pull out the arrows from the target board. Green means ready to shoot
some bird down
!
Mine was taken down before I could take picture. Anyway, it was just okay. No bullseye but at least is was within the pink box.
. . . unlike Theen.
>.<
I asked SL to take a picture of me pointing to the arrows Theen shoot and that kanasai girl cropped it out! Buggar. Cheh... you think that's gonna stop me from telling the whole wide world how lauyah are you? Humpphhhh! Try harder lady.
The stupid cropped out picture
Her first arrow was like.. 50cm away from the target board. And the second one, slight improvement, 30cm.
I told them give her another 5 arrows and she'll gradually reach the bullseye.
Only after 4 arrows, she complained tired already. That girl so funny. We're suppose to release the arrow like after 3 secs of aiming.. It took her forever to do that! She pulled the bow for about more than 10 seconds every time while everyone of us was waiting eagerly beside. Then the next thing she did was putting the bow down with the arrow still attached and massaged her arms.
*doink*
Mr. BJ told me archery is a very simple sport.
Three steps.

- Pull
- Aim
- Release
Easy as it may sounds, but you got to try it yourself. The price is quite reasonable and I guess the feeling will be priceless if you get the hit the bullseye.
For you guys out there who's interested, here's the details.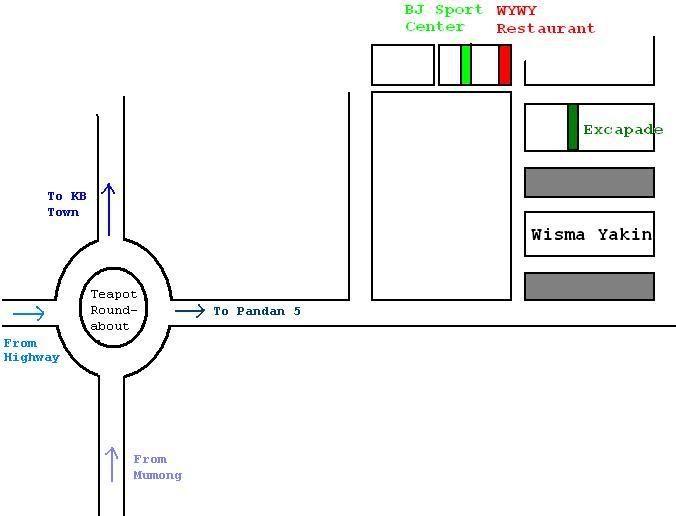 Don't complain about the map. That's already the best I can draw out of Paint. And you Miri-ians out there, that's the map of Excapade (KB) for you. Don't
holland
again.
(Translate:

Holland

- Chinese slang meaning sesak or getting lost)
- - - - - - - - - - - - - - - - - - - - - - - - - - - - - - - - - - - - - - - - - - - - - - - - - - - - - - - - - - - - -
On an extra note.

I was taking pictures inside the archery and they asked if I have my own website. I just smiled and said I do have a blog and I'll be putting up these pictures I took. Then a guy asked for my blog's url and I spelled them out. In my heart I was actually yelling,

"YES! I own a blog and as a matter of fact, my blog won the Brunei Best Personal Blog. Now, can give me discount or F.O.C?"



But sadly, my blog never brings me any special deals or invitations.
Kasian hor?
Drove to the land rig where James worked to send over his Chicken Teriyaki Don sweetly tapao-ed by Theen.
Me: What is this place?
SL: Rig lor.
Me: Then what is the tall tall thing har?
SL: Rig structure lor.

What? Did I just ask a very stupid question?
I was actually expecting some high tech answer with scientific terms that I don't even understand
and not just a word "derrick"!!