Yes I'm back.

Back to the place where no one smiles and greet upon meeting regardless of being total strangers. I know its weird but somehow I do miss the place. Sleeping on that long stretch of wooden bunk bed at 12+am every night and waking up at 6am. Everything was fixed and set and all we gotta do is follow the routine stated on the booklet.
It's
FUN
! No one's gonna believe it but this is totally not what I'd expected in the first place. I thought I'll dissed it pretty much as I seriously had no idea how to cope with preteens. Pretentious, rebellious, disrespectful, sassy, demanding, wannabes.... Okay, I was quite wrong about them. I shouldn't be so judgmental.
I have so many to share but I'm afraid you guys might get bored.. Will you?
I learned that children really need attentions and encouragements from their parents. And I felt really lucky that my mum had given me that when I was at their age.
I felt so ashamed of myself when one-third of them
(the teens)
were already a full-time vegetarian while I still that horrible carnivore who gets excited munching that
KFC spicy fried chicken
.
Most of us cried on the last day upon hearing really touching confessions from the teens. They're so brave to admit their faults and regretted what they did in front of everyone but I hope they won't return to their old self few hours after stepping through their house doors.
(I was like that... I told myself I must be more filial and do this do that yadda yadda yadda, and the next thing I was lying on my bed with the Astro controller and munching Lays.)
I realized how stupid I was thinking its cool to talk back and interrupt every time the teachers told us something 7 years ago. I thought I was smart that time to come up with brilliant quotes and silly questions. But now when I saw the teens did the very same thing, I smiled in my heart and said,
"Man.... Is this how I was like last time? Damn... I made a total fool out of myself. And those uncles and aunties were patience and kind enough to tolerate and not to tell me off."
Some might think,
"Shouldn't be a problem for you since you're already a teacher and what difference does it make for you to be a 辅导老师?"
Huge difference okay.
This one no salary one

leh

.
Hahhahahahhaa!!! I'm just kidding.
(Chau, Pingko, Eileen Yeye, Heng uncle and Joanne auntie, don't take that seriously ha. I know a couple of you might be reading this!)
I'm glad that I'm given a chance to be "Guidance teacher" because I seriously think that I'm not qualified to be one. In fact, I think that they're the one educating me. Definitely an
"ear-opener"
for me.
Somebody help me!
I'm suffering from the
Post-FT-Effect!

.. and I know you have no idea what the heck is it. Hahhaa.
Stupid post this is a. Read it may you not like to. Angry you are?
No wonder Yoda talks like that, it's fun!
Hmm... But how to tabalik
"Hahahhahaa"
ah?
Okay I try.
aah Ah Ah Aah AaaH ?
Stupid.
Group Photo

(First ever photo taken with the VIP. Very far la I know, but still... Happy leh wei)
(Spot me if you can. It's not that hard really.)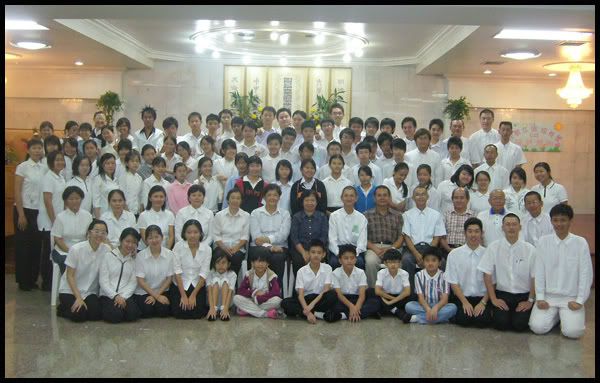 Ignore that dragon-ball-head kid. He changed his attire right after the class finished. Typical preteen that I dislike. Okay Nonnie, you're judging again.

Repeat to self.

I will not judge or discriminate.
I will not judge or discriminate.
I will not judge or discriminate.
I will not judge or discriminate.
I will not judge or discriminate.

But really, don't you feel teens nowadays pay more attention to their appearance other than their studies? I was still wearing that ugly and fade of Tweety Bird loose tee-shirt + short pant with rubber slipper for my tuition class when I was their age! Bet they spend more money in buying hair gels and top up cards instead of reference books.

Boring I am.
Blog bugs missing.
Whitie I love.