The unofficial title for this post will be:
HOW TO LOSE 3KG IN A DAY!
(and gain it all back in just 15minutes)
Sorry for the delay but I just finish editing 88 photos! Fu-Yoh! Damn kiasu right? I was thinking to put everything in just one post but I don't think that's possible.
Better not be greedy, so there.. 44 photos in this post, and another 44 coming.
Rewind.
1st March 2008. Went to
Belait 3rd Annual Travel Fair
and chatted with
Liza
, she was telling about the promos but... I'm on a mission remember?
Even KK and KL also no money go.. what more to say Australia, Hong Kong that kinda places?
But no worries, there's still a place that I had always wanted to go and it's in Brunei itself.
The tour was on promo, from usual price B$135 per pax to B$88.00! Save $47.00 leh! Text Bobby asked if he's interested, and also other kanasaiers. Bobby okay. SL couldn't justify if he's able to get a day-off that day because he has an unpredictable boss. Kelly and Theen, of course.. not interested. They rather stay in air-conditioned room than going out on a sunny day and sweat while enjoy the nature.
My service confirmation voucher


We're given a brochure with tips on what will be provided and what to bring.


Apparently, this brochure has not been updated for quite a long time..
Camera - plus lots of film...?
Should be: Camera with fully charged battery and spare memory card, right?
And the foot note really got me chuckled.
"no suitcases in the jungle please."
Must be because they ever encountered scenario like that, if not how come they highlighted it? But, who the heck will bring suitcase to a forest? Hard to bring and limited space.

Old shoes... I have!

So buruk can buang into the bin anytime. But, still wearable I think.

As usual, we arrived early because I have a "better get ready and go early" boyfriend and it was only 7.00am when we reached the jetty.
According to the itinerary, we're suppose to meet up at 7.15am, and the boat doesn't leave until 7.30am. So our tour cordinator (?) told us that we might as well go have breakfast than wait for another half an hour watching boats and birds.
So we did.
We looked so tourist-ish! With backpacks and tracking suits walking around Bandar area. It's really one of a kind experience for the both of us.
I love my backpack. It is what I use for work daily because its really handy. I can fit the Macbook in, along with my pencil case, another bigger stationery bag, notebook, wallet, mobile phone, water bottle, other ojipalas.
It doesn't match with my baju kurung but, I like. Who cares.
I know most teachers carried a Guess bag, with inch thick make up and sparkling heels. And I'm the odd one out most of the time. Frizzy untidy hair, backpack, flats and a pancake face with acne scars, that's me.
We had a light breakfast, teh-tarik and samosa.
Actually we weren't thinking to makan, just that my tummy alarmed me that I need to use the washroom, so.. we just hamtam choose a restaurant, ordered something cheap and off I go, pang-sai.
And walked back to the jetty at 7.30am. Everyone was there already. Bobby and I terpulang became the last to arrive and made everyone waited.
We departed with the red boat
And Liza was feeling alive and kicking with a sprained ankle. Just like me, Liza was no rules-follower. Everyone told us that with a sprained ankle, we're suppose to rest and not massage it and so on...
we crashed all the rules. =D
It was a
speedy recovery
for me though. But I heard Liza is walking with a cane today.
Sunny day = Any pictures taken outdoor will be damn cun
Kampong Ayer
The boat ride was bumpy and the two tough men, Azman aka Superman and Bobby my fat guy had motion sickness and stayed quiet the whole trip. Where as the girls, Liza, Ida and I were busying sharing informations... meaning, Mengumpat.
(Did I spell it correct?)
with a few "Wooooooooo" and "Waaaaaaaaa" in between when the captain/commander/ boatman/ driver
(he's the only one driving the boat, I think he can gives himself any title he wants..)
did a few sharp cornering. Ganas eh, like Inital-D.
Just check out the horizon to see what am I talking about
Don't play play.
Something irrelevant.
Spotted someone wearing a pirated sock.
Bought from SKH, B$1.50. Not gonna tell you whose feet does them belong to protect the person's image. Hahhahaaa. No worries, the shoes is original.
But Mr. Pirate, next time professional a bit waaa... Check spelling first.
Adiads
.... HAHAHHAAHA!
Some more the 3 stripes tabalik one.
30 minutes later, we arrived...



We really did feel like we're not in Brunei for an instance. It's very different from what we normally experience. Unlike Bandar area, Bangar town is cleaner and the river is less-polluted.


L-R: Bobby, Nonnie, Liza, Azman, Ida and Shahri
If you saw any floral prints or thought that I was wearing a bright blue underwear, that's my swim suit fyi. Was wearing it inside so that I don't need to find a changing room later for swimming and also, less baggage.
At first I thought it was some Thai restaurant, turn out it's just a mini-mart selling souvenirs and all sort of stuffs. And Liza was damn sakai when she saw DST Temburong branch and shouted in astonishment,
"Wah! Got DST. Meaning got network coverage then."
Our tour guide and driver later brought us to the Rainforest Lodge located at Batang Duri for morning tea and briefing.

It was surprisingly clean and homey. Not referring to the exteriors only, even their washrooms are damn clean. Way better than what I imagined actually.


Oh ya, Bobby was quite stiff because he hadn't recover from the motion sickness and
Mr. Tabiman
cured him with his psychic power.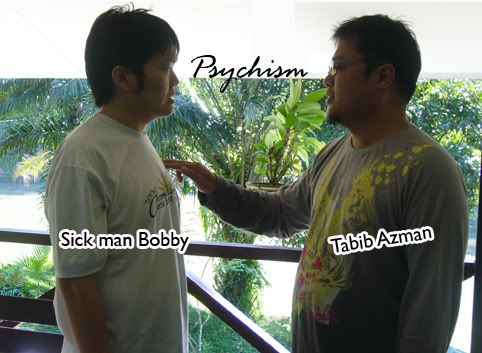 Superman can cure too!

And Lois Lane on the other hand would not pass any chance on grabbing photos.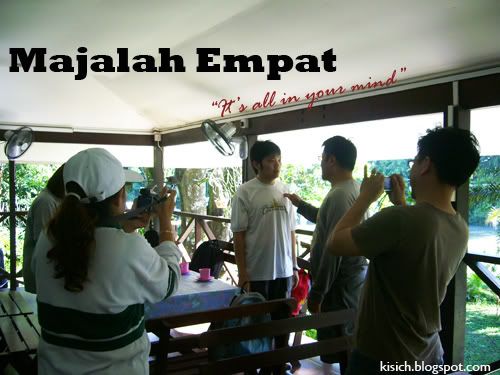 They're telling me that maybe Azman can cure my
ophidiphobia
. Errrrr, thanks but no thanks. Snakes on plane will never EVER(!) be my favorite movie!
Gardener and The Happener(?)
You'll be seeing me doing a lot of the tacky "peace" sign in this post. Blame it on Liza, she's doing so much of it that it kana me too. Hahhahaaa.
Popiahs, Curry puffs, banana fritters and sticky rice
Not only they're tour guides, they're also the cleaners, cooks and so on for the lodge.
"Wrap mountain wrap sea"
you know?
Don't know then go ask any of your Hokkien friends.
Told you she likes to do the
"peace"
sign
Lookie!
Yeah!!!!
The monkey-ness in me straight away climb up the ladders and tried it out after confirming it's safe from our tour guide.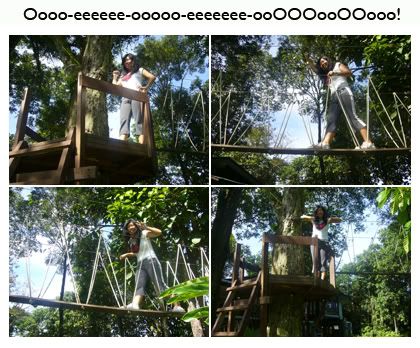 After everyone finished their breakfast and I'm done with the
"Look! I'm walking on a plank of wood!"
, Rose started to brief us the agenda of the day.
She was really patient with us.
We're asking her all sort of stupid questions like,
"How many petrol stations in Temburong?"
,
"Do we get to see wild boar later?"
and Ida's million dollar question...
"What kinda government job can you get in Temburong? Why don't you try working of Ministry of Culture, Youth and Sport?"
yet she still layan us sincerely.
So we learned:
The population of Temburong is 11,000 and 5,00 of them are Ibans.
There's two petrol stations in Temburong.
There's no giraffe nor lions in the mini zoo.
There's 12 primary schools and only

ONE

secondary school in Temburong.
I think I'm having an overdose of Geography lessons lately...
And don't see her thin thin like that. She's so strong that she's the one always pushing the long boats into the shallow water with all of us inside the boat. Made me feel paiseh seeing her doing the hard job.
Someone said I like to find flaws in people or things because I spotted the Adiads socks and this.
Hey, I'm a teacher remember?
Mr and Mrs Superman will never forget to pose


And my poor baby had to undergo another boat ride.
Don't worry, his semi-digested samosa and teh tarik remained in his tummy and he survived the trip.

Since we're on two different boats, Liza suggested that she'll shoot me, and I can shoot them. But, my lauyah camera cannot zoom that far laaaaaaaa....

Kasian.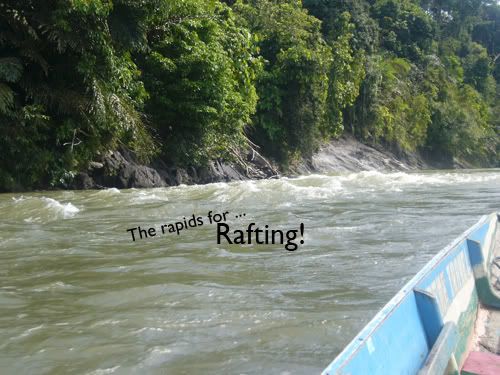 Managed to change seat with Bobby at a stop point.
See his kasian face.
At the other 7 seater longer boat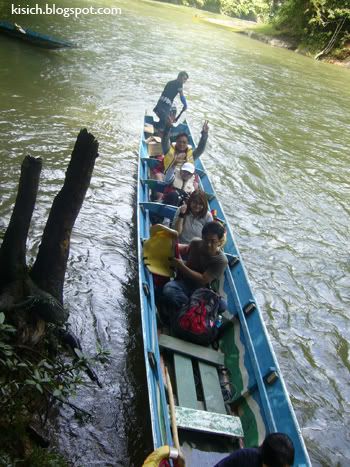 Every time I saw those professional photographer ah, they can always bend here and there in order to get a good angle one. Like jellies.
So after 45minutes later, we arrived the National Park Center for registration and also, walked on the elevated pathways to climb the canopy walkway.
*upward*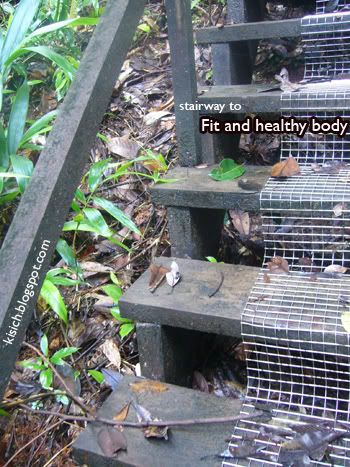 Check out Bobby's bag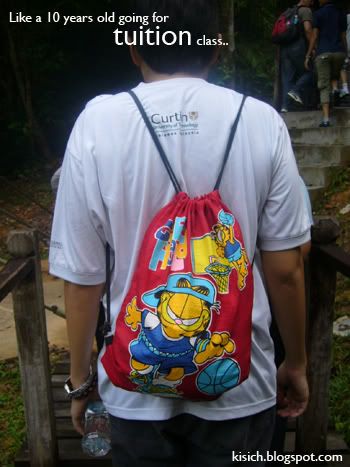 So very old school kan?
Reminds me of my 101 Dalmatians bag that I used for my tuition class 15 years ago.
That guy happy, only brought a towel and some spare clothes. Where as I brought spare clothes too, a fan, tissue papers, a small tower, a bigger towel, 2 sun blocks
(one for face and the other for body)
, 2 bottles of water
(because I damn kiasu and thought no drinks will be provided)
.. So my backpack was damn heavy okay!
Hehehhee. Jalan Tongkat Ali
That's my index finger by the way.

Passed by this bridge because we're heading up a higher up canopy walkway first.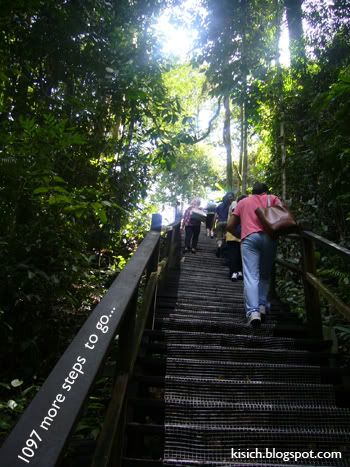 Damn tiring okay, 1226 steps leh! For an instance I was whining why the heck I paid $88 for this !$@# but it was all worth it la at the end of the day.

Sign board along the pathway.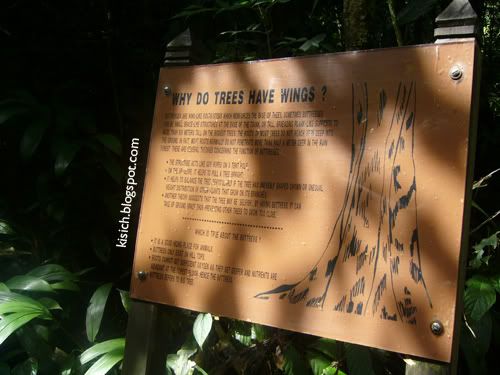 We came across of signboards like the one above educating us tourists but really, who still has the breathe to stop by and read wor? All that was in my head was...
"Are we there yet?"
"Why do trees have wings?"
- errr.. to prevent leakage? Just kidding.
This woman was the first to reach!
Some more she has an injured ankle! You kidding me? We all
kalah
to a woman who's suppose to be limping? Her tips was rest every 30 steps she climbed.
So finally after don't know how long.. we completed the 1226 steps and reached our destination. I asked Bobby to take a photo of me and my "achievements" and this is what he took...
Cannot harap him to take good picture one.

And this,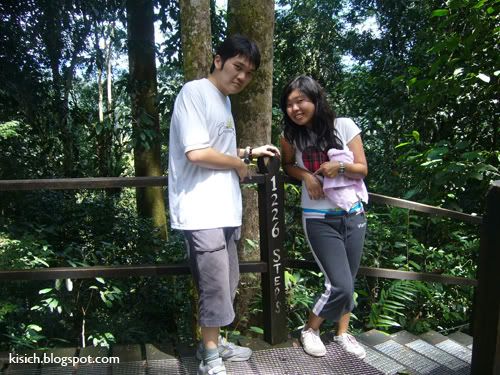 was taken by Liza..
Note the difference?
See...
ANOTHER PEACE SIGN!!!
(Taken before we climbed up another don't-know-how-many hundred steps up the tower)