This is SUPERRRRRRRRRRRRRRRR late! Late till I malu mentionthe travel dates.
Anyways, I'm just going to combine everything into this one post so I wont procrastinate.
(I lied. There's too much photos for just one day so I'm splitting it again. Hope I won't Tiger-head-snake-tail again)
So ya, after my 3 hours of resting after reaching, I just couldn't bear the idea of wasting my day time not exploring therefore I urged my dearest travel mates to go out and have fun already!
The guesthouse we stayed, Khaosan Kabuki is just two blocks away from the famous Kaminarimon Gate and we passed by the Gate everyday on our way to take Tokyo Metro (We love the Metro Ginza Line!), which was a way better train because it's just so idiot-proof, unlike any of the JRs or the nearby Toei. You may think, or… early or late 1 minute nevermind, same train mah… WRONG! If its shows, 6.02pm to xxx destination and if you take 6.01pm train that arrived… Ho ho ho, you're going to end up in a different place! Japanese and their punctuality, I LIKE!
And Khaosan has so many branches that it made us wanna try all of them!
http://www.khaosan-tokyo.com/en/index.html

This is Nakamise dori, a shopping street behind the Kaminarimon Gate. Not to be confused with Kaminarimon and Sensoji temple. These three names are all different thing/places. Because once I saw someone uploaded a picture of the Kaminarimon Gate with the caption Sensoji Temple….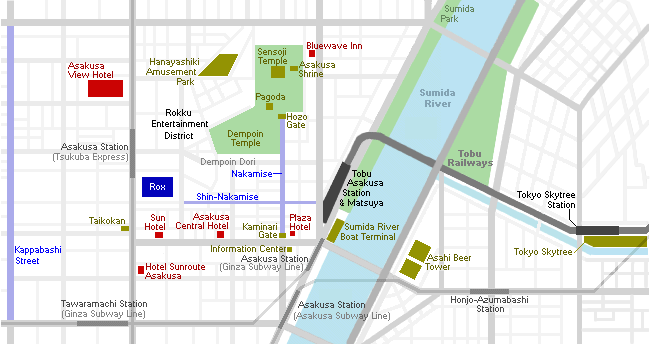 Just like how I don't like people confusing Kuala Belait (KB), Seria and Belait District….

SIBEH CUTE LAH!!!!!! Seriously, Tokyo has the tendency to convert every normal people into pedo!

Masuk temple mesti draw itu divination stick!

handmade ningyoyaki~ There's just so so so many shops selling them but mostly done by machines.

WHY RED BEAN IN JAPAN SO NICE ONE???
Seriously, forget about asking me to eat red bean bun in Brunei… Overly sweet and not smooth. I rather go for traditional red bean soup.

Our fried manjus, Green tea, custard and red bean. Custard one nyaman!

Rickshaw (jinrikisha, literally "man powered vehicle")… Expensive and I feel paiseh to sit one it because of my weight. But, some kokozais were quite cute lah!

淺草的名店大黑家! Tempura Daikokuya (tendon)
http://www.tempura.co.jp/index.html
We were very lucky that it was still early and we only the 3rd group in queue. It's a very restaurant for their unique tempura.

Not… cheap…. And this tendon is like the cheapest on the menu liao.
1600 yen (B$20) you get 2 large prawns and a vege with rice.
Nope, we didn't order that during our first visit because we wanted to try what's more appealing to us from the menu and after trying out both kind of tendons (The limpy black sauce tempura and the usual crispy type), we like the crispy one wayyyyyyyy better. But oh well, the black sauce one is the famous one so maybe you guys can try order both and see which one you prefer.

The kasian one…  trying to find food suitable for vegetarian.
(It costs $4 for a bowl of plain rice. Expensive, but.. the rice was really good that she didn't mind ordering it again during our second visit)
We were rebellious, ordering different food from others and we're happy with our choices.

The crazy queue after we finished eating….

Tips. We calculated and realized it's cheaper to buy subway tickets (one way one way) instead of getting a day pass or week pass. But of course that depends on how many places you are going to visit a day lah.

One day ticket (Tokyo Metro)= 710 Yen (Adult) and 360 Yen (Kid) – B$9.00
For more information , http://www.tokyometro.jp/en/ticket/value/index.html


Went to Ginza after that.
We only remembered Ginza for one thing… Guess!

Inside the toilet cubicle…. JAPAN, Y U SO CONSIDERATE!
That's a baby seat that allows mommy/guardian to keep an eye on the baby when having no one to look after  and need to go to the toilet.

Fruits! Check out the prices~
And yeap, that's the only thing/food we purchased in Ginza. Hehehehehheeh.

B… A..N.A.N.A

The reason why I wanna go Ginza. Eh wait, I did bought something in this building so strawberries weren't the only thing I bought in Ginza. Paiseh paiseh.

The strawberries were so good that we returned for another stick!

So fresh and juicy! BRUNEI, Y U NO HAVE STRAWBERRIES CHEAP AND YUMMY LIKE THIS!

The owner of this poodle was so lazy that it just used this remote controlled car to walk the dog!

The story behind the above photo is….
Vai bought the chilled coconut from the fruit stall (in Ginza) and after finishing, she couldn't find any dustbin to dispose it! She had no choice but put it inside her bag while taking the subway from Ginza to the Shimbashi station and when she finally found a dustbin, it's too small for the coconut. Hence, she just left the coconut like that. Hahahahahahahah!
Lesson – It's not easy to find dustbins on the streets of Tokyo and Japanese do not eat/drink while walking… SO better finish your food on the spot where bins are available for disposing.

The happy girl who finally got her hands free from coconut!

Hello Tokyo Tower.
My tip on visiting towers… Go during early evening so you get to see both day and night view! No rugi mah.

820Yen for Main Observatory Ticket.
Malas go for the special one… (Main + Special = 1420 Yen)

Resting our feet after going one round.

Not for those afraid of heights.

Watched 千奇百趣 (Neighbourhood Treasures) about this Tokyo Tower "Reflection"

This fellow kept trying to win.. I don't remember what already…

Simple dinner at Curry Lab.
Probably the only mediocre meal we had in Tokyo.
Good Night Tokyo~